March 14, 2023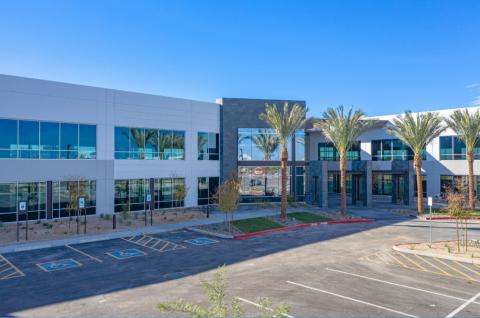 East Valley welcomes GCU's accelerated nursing program in fall 2023 to help heal nursing shortage
PHOENIX – Grand Canyon University is expanding its nursing program into the City of Chandler this fall as it continues its efforts to address the nationwide nursing shortage. The new location will open in September at One Chandler Corporate Center, 4100 W. Chandler Blvd.
GCU's Accelerated Bachelor of Science in Nursing (ABSN) program is designed for individuals who have a non-nursing college education and are interested in pursuing a career in nursing. The ABSN program builds upon the student's education by following a logical, effective sequence of coursework, skills labs, immersive simulation, and clinical rotations over a 16-month time span. Upon completion of the program students must sit for the National Council Licensure Examination (NCLEX).
The market demand for nurses is projected to grow 6% over the next decade, with over 200,000 openings for registered nurses through 2031, according to the U.S. Bureau of Labor Statistics.   
"The university's decision to prioritize and expand nursing education opportunities in the Valley lines up with what the America Association of Colleges of Nursing is asking schools to do – and that is to expand capacity to meet the rising demand for quality care," said Dr. Lisa Smith, Dean of GCU's College of Nursing and Health Care Professions. "Offering our accelerated BSN program assures GCU is feeding that pipeline by producing an increasing number of baccalaureate-prepared nurses for the workforce that will meet patient safety."
Offering GCU's ABSN program in Chandler is also an example of how the university's nursing program is working together with cities to address the nursing shortage. 
"Chandler is committed to building partnerships that help deliver the education and skills needed for the workforce of tomorrow," said Chandler Mayor Kevin Hartke. "Grand Canyon University's announcement aligns with that goal by addressing the needs of local industries. We are thrilled they will be calling Chandler home."
This will be GCU's sixth ABSN site – becoming the third in Arizona following the 2020 opening of locations in Sun City and Tucson along with a new west valley, Phoenix location. Additional sites are located near Sandy, Utah and Henderson, Nevada.
"GCU recognizes the Western region of the U.S. is experiencing the most significant RN shortage," Smith said. "We're prioritizing our resources state-by-state to keep up with the demand of nurses where it is needed the most."
GCU's ABSN program offers a hybrid learning model to provide a well-rounded educational experience. Start dates are available in January, May and September. Applicants must have at least 60 transferable credits.


About Grand Canyon University:  Grand Canyon University was founded in 1949 and is Arizona's premier private Christian university. GCU is regionally accredited by the Higher Learning Commission and offers 312 academic programs, emphases and certificates for both traditional undergraduate students and working professionals. The University's curriculum emphasizes interaction with classmates, both in-person and online, and individual attention from instructors while fusing academic rigor with Christian values to help students find their purpose and become skilled, caring professionals. For more information, visit gcu.edu.
About City of Chandler, Ariz.: Chandler, Arizona has built a reputation as a Community of Innovation. Life in Chandler goes beyond a thriving and dynamic business community with progressive entrepreneurship. Known for its rich diversity, the City offers an outstanding quality of life for all generations with great schools and recreational opportunities. Chandler has grown to become the state's fourth largest City with a population of more than 285,000. Chandler has been named one of the nation's Best Places to Find a Job and Best Cities for Women in Tech. The City also is one of the safest communities in the nation and boasts AAA bond ratings from all three national rating agencies, one of only 40 communities to achieve this distinction. For more information, visit the City website, or connect with Chandler on social media.
Media contacts:
Bob Romantic
Grand Canyon University
602-639-7611 
Stephanie Romero
City of Chandler, Public Information Officer
480-782-2231