Sept. 24, 2021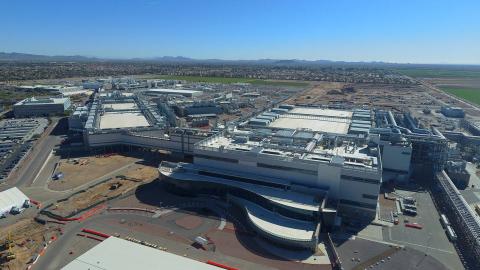 Intel's new Arizona fabs to be production ready in 2024, creating more than 3,000 high-tech jobs
CHANDLER, AZ (Sept. 24, 2021) — Intel today broke ground on two new semiconductor fabrication facilities, or fabs, at the company's Ocotillo campus in Chandler. In a groundbreaking ceremony attended by Governor Ducey, local elected officials and community leaders, Intel CEO Pat Gelsinger celebrated the start of construction on the largest private investment in state history and reiterated the company's commitment to investing in U.S. semiconductor leadership.
"Arizona has been core to Intel's growth over the past 40 years and is the cornerstone of our growth strategy for the next 40," said Pat Gelsinger, Intel CEO. "As the only U.S.-based leading-edge chipmaker, we are committed to building on this long-term investment and helping the United States regain semiconductor leadership. New technologies born here will improve the lives of every person on the planet."
With the addition of two facilities – to be named Fab 52 and Fab 62 – Intel's Ocotillo campus will house a total of six fabs. The investment will create more than 3,000 new high-tech, high-wage jobs and 3,000 construction jobs, while supporting an estimated 15,000 additional indirect jobs in the community. When fully operational in 2024, the new fabs will manufacture Intel's most advanced process technologies.
"Today's groundbreaking ushers in a new landscape for Arizona semiconductor production," said Governor Doug Ducey. "For more than 40 years Intel has been at the center of Arizona's innovation economy. Intel's latest expansion promises to further that legacy for decades to come while creating thousands of jobs cementing Arizona's position as a global leader for semiconductor manufacturing. I want to recognize CEO Pat Gelsinger and the entire Intel team, Sandra Watson and the Arizona Commerce Authority, Mayor Hartke and the City of Chandler and our legislative partners for their efforts to make this project a reality. We are grateful for Intel's continued investment in Arizona and can't wait to see these factories up and running."
The two new fabs in Arizona will support Intel's product expansion requirements and provide committed capacity for the recently announced Intel Foundry Services (IFS). 
"We are excited to celebrate this historic day with Intel, the City of Chandler and Arizona," said Sandra Watson, President and CEO of the Arizona Commerce Authority. "Semiconductors are at the heart of the emerging technologies improving our world. Intel's expansion means Arizona will continue to be the premier place for technology and innovation long into the future."
"Intel has been an incredible partner for the past 40 years," said Chandler Mayor Kevin Hartke. "Their presence as a global semiconductor manufacturer has created an everlasting impact, not only for Chandler as a Community of Innovation, but throughout the entire state of Arizona. We are thrilled to mark this historic occasion with Intel and I look forward to the thousands of new jobs and advanced technologies it will bring."
Amidst a global backdrop of unprecedented demand for microchip technology, Arizona has emerged as the number one place for new semiconductor investments and was recently dubbed by Forbes as "U.S. Semiconductor Central." Semiconductor manufacturing employs more than 22,000 people in Arizona and counting – Top 4 in the country – with a wage impact of more than $8 billion.
About Intel in Arizona:
Arizona is Intel's U.S. manufacturing powerhouse. For more than 40 years, Arizona has been vital to Intel's ability to create world-changing technology. Intel is not only investing to advance the ecosystem of innovation, but the company is committed to protecting Arizona's natural resources through responsible stewardship of water. Intel has set an ambitious goal to achieve net positive water use by 2030. In 2020, the Arizona site returned and restored approximately 95% of the freshwater used in manufacturing to the community and local watersheds through innovative water management practices and investments. See this fact sheet for more details on Intel's Arizona approach to water. To learn more, visit intel.com.
About the Arizona Commerce Authority:
The Arizona Commerce Authority (ACA) is the state's leading economic development organization with a streamlined mission to grow and strengthen Arizona's economy. The ACA uses a three-pronged approach to advance the overall economy: attract, expand, create - attract out-of-state companies to establish operations in Arizona; work with existing companies to expand their business in Arizona and beyond; and help entrepreneurs create new Arizona businesses in targeted industries. For more information, please visit azcommerce.com and follow the ACA on Twitter @azcommerce.
About the City of Chandler, Arizona:
Chandler, Arizona has built a reputation as a Community of Innovation. Life in Chandler goes beyond a thriving and dynamic business community with progressive entrepreneurship. Known for its rich diversity, the City offers an outstanding quality of life for all generations with great schools and recreational opportunities. Chandler has grown to become the state's fourth largest City with a population of more than 280,600. Chandler has been named one of the nation's Best Places to Find a Job and Best Cities for Women in Tech. The City also is one of the safest communities in the nation and boasts AAA bond ratings from all three national rating agencies, one of only 40 communities to achieve this distinction. For more information, visit the City website, or connect with the City on social media.

Media contacts:
Linda Qian
Intel
Alyssa Tufts
Arizona Commerce Authority
Stephanie Romero
City of Chandler