Aug. 31, 2018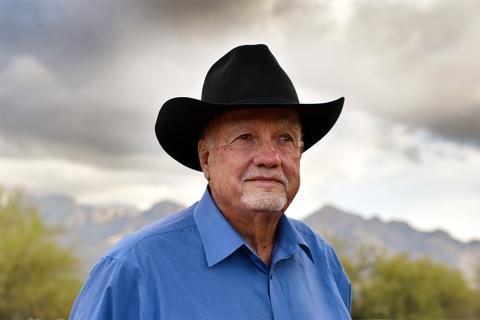 The fall season of the City's Our Stories speaker series opens Saturday, Sept. 29, 2018, with "Life on the Lazy B as Lived by an American Cowboy and Rancher," presented by Alan Day, modern cowboy and brother of Supreme Court Justice Sandra Day O'Connor. The program will be held at 10:30 a.m., at the Downtown Chandler Library, 22 S. Delaware St.
Our Stories is a free annual speaker series open to the public, with each session sharing first-hand accounts and expert insights into the history of Chandler, the Valley and Arizona. It is hosted by the Chandler Public Library, Friends of the Chandler Public Library and Chandler Museum, with support from the Chandler Historical Society.
If it is possible to say someone can be born a cowboy, then Alan Day was born one. He was part of the family's third generation to grow up on the 200,000-acre Lazy B cattle ranch straddling the high deserts of southern Arizona and New Mexico. After graduating from the University of Arizona, Alan returned to manage Lazy B for the next 40 years, during which time he received awards for his dedication to land stewardship.
In addition to co-authoring with his sister, Sandra Day O'Connor, the New York Times bestselling memoir Lazy B, Alan also is the author of The Horse Lover: A Cowboy's Quest to Save the Wild Mustangs and Cowboy Up: Life Lessons from Lazy B.
Alan explores ranching and cowboy life from the chuck wagon years of his childhood, through his adult years of increasing bureaucracy, airplanes, computers and now even drones. At the heart of his stories lie adventures that most of us will never experience, as well as a deep love of the natural world.
Each season of the Our Stories Speaker Series generally offers nine programs per year. Upcoming programs this fall include October's "NFL Star to Army Ranger: A Closer Look at the Life of Pat Tillman," which explores the story behind one of Arizona's most iconic names in modern sports history. His post 9/11 patriotic actions and his death gained immediate national attention, overshadowing his personal story. Beyond the publicity surrounding his life story, Tillman's actions and character have inspired a legacy of service impacting Arizonans and beyond.
In December, the series will examine some of the lesser known local stories of the Korean War in "Voices from the Korean War: Prisoners and the Missing." This program features a first-hand account from local veteran Arden Rowley who shares in unflinching detail the story of his capture by North Koreans in 1951.
Popular Our Stories topics from past seasons have included: local Japanese American internment camps during World War II; glimpses into the state's rich American Indian heritage; lore and legend about unique places in Arizona; and interesting tales about Chandler's roots. 
For more information on the upcoming series, call 480-782-2751, or visit the Chandler Public Library website.