July 9, 2021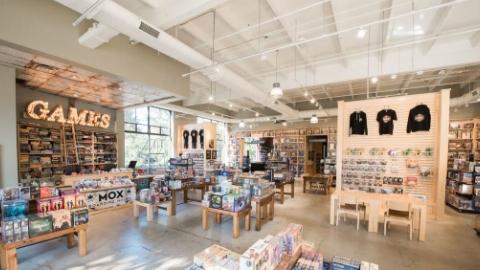 Award Winning Store Coming to Chandler
Seattle, Wash. – Since 2011, Mox Boarding House has been changing the board game restaurant experience with its unique award-winning retail and restaurant spaces. Mox offers over a thousand game titles (including miniatures, board games, role playing games, card games, and more), as well as a kiosk to buy and sell Magic: The Gathering cards. Its restaurant offers specially curated menus, using many locally sourced ingredients, along with wide selections of beer, wine and craft cocktails.
Mox Boarding House has proudly served the gaming communities of the Pacific Northwest for the past 10 years. Now, Mox is excited to share its unique offerings through Arizona and its communities. The final timeline for opening is not yet set, but construction has started at 1371 N. Alma School Road in Chandler.
With more than 10,000 square feet, this new Mox location will be uniquely designed especially for Chandler, Ariz. Mox Chandler will feature their signature retail, restaurant, and event space that customers have come to love from the Mox brand, all served with a unique twist for Arizona patrons. Additionally, the Arizona location will house two differently themed private rooms that can be rented for events and a large outdoor patio for added dining space. Guests are welcome to borrow games from the huge game library for free while enjoying a meal in the restaurant.
"We are thrilled to welcome this unique restaurant and entertainment concept to Uptown Chandler," stated Chandler Mayor Kevin Hartke. "This burgeoning area on the north side of Chandler continues to see employment growth, redevelopment, and new investment. Mox Boarding House is a great addition to the mix and we wish them many years of success."
"Stepping into a Mox Boarding House is an instant transportation to somewhere special," stated Jorel Miller, Director of Mox Boarding House. "Each of our locations provide an opportunity to unplug and spend quality time with others. We offer a sense of community packed with a vast selection of games, good food, and craft beverages, for all seeking a unique experience in an environment like no other."
Please see the Mox website, blog and Facebook Page for updates.
About Mox: Founded in 2011 by brothers John and Damon Morris, Mox Boarding House offers a unique experience that was created with the gaming community in mind. Mox Boarding House is part of the Card Kingdom family of brands, which was founded in 1999 and serves the needs of Magic: The Gathering players. Visit their award-winning game stores in Seattle and Bellevue, Wash., Portland, Ore. – and coming soon to Chandler, Ariz!

About City of Chandler: Chandler, Ariz. has built a reputation as a Community of Innovation. Life in Chandler goes beyond a thriving and dynamic business community with progressive entrepreneurship. Known for its rich diversity, the City offers an outstanding quality of life for all generations with great schools and recreational opportunities. Chandler has grown to become the state's fourth largest City with a population of more than 268,000. Chandler has been named one of the nation's Best Places to Find a Job and Best Cities for Women in Tech. The City also is one of the safest communities in the nation and boasts AAA bond ratings from all three national rating agencies, one of only 40 communities to achieve this distinction. For more information, visit the City website, or connect with the City on social media.