March 25, 2021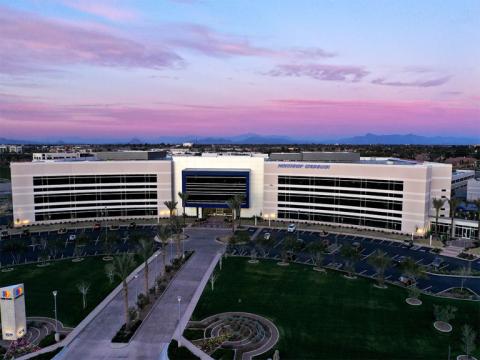 CHANDLER, Ariz. – Northrop Grumman Corporation (NYSE: NOC) announced they had been awarded a contract by the Missile Defense Agency (MDA) for the Next Generation Inceptor (NGI) program. The contract is for the rapid development and flight test of an interceptor designed to defend the nation against the most complex long-ranged threats. Northrop Grumman has strategically teamed with Raytheon Missiles & Defense, a business of Raytheon Technologies (NYSE: RTX), to bring together the vast experience of the two companies on one team, to deliver an effective solution for MDA on an accelerated schedule.
"We are very excited that Northrop Grumman Corporation was selected by the MDA as the prime contractor to develop the NGI system, and will bring additional jobs to Chandler's Price Corridor," stated Chandler Mayor Kevin Hartke. "We look forward to continuing our relationship with Northrop Grumman as their highly skilled workforce here in Chandler continues to defend the United States of America."
The NGI program is an element of the MDA's Ground-based Midcourse Defense System (GMD) which is the primary U.S. missile defense system used to defend the country from long-range ballistic missile attacks. Northrop Grumman and Raytheon Missiles & Defense currently provide interceptor booster, kill vehicle, ground systems, fire control and engagement coordination for the country's GMD system.
"Supporting the Missile Defense Agency in protecting our homeland is something we've been doing in Arizona for nearly 20 years on the Ground Based Interceptor program" said Rich Straka, vice president Northrop Grumman launch vehicles. "We are proud to continue serving our nation as we build the Next Generation Interceptor, bringing many new jobs, as well as career growth opportunities for our current employees and ensuring Arizona remains a vital contributor to our nation's defense."
In late 2019, Northrop Grumman moved into a new 633,000-square-foot build-to-suit campus along the Price Corridor. The award-winning campus is equipped with state-of the-art technology.
"Our campus enables the agile design and manufacturing processes we are using for NGI," said Straka. "We also focused on employee engagement and collaboration with the design, including common areas, a restaurant-style café, gym and other unique features that help us find and retain our world-class workforce."
Northrop Grumman's 47-acre campus is located at 1575 S. Price Road. It is one of Chandler's largest commercial projects and Northrop Grumman is one of Chandler's top 10 largest employers with approximately 2,500 employees. 
 
About Northrop Grumman:
Northrop Grumman solves the toughest problems in space, aeronautics, defense and cyberspace to meet the ever evolving needs of our customers worldwide. Our 97,000 employees define possible every day using science, technology and engineering to create and deliver advanced systems, products and services.
About the City of Chandler:
Chandler, Ariz. has built a reputation as a Community of Innovation. Life in Chandler goes beyond a thriving and dynamic business community with progressive entrepreneurship. Known for its rich diversity, the City offers an outstanding quality of life for all generations with great schools and recreational opportunities. Chandler has grown to become the state's fourth largest City with a population of more than 266,000. Chandler has been named one of the nation's Best Places to Find a Job and Best Cities for Women in Tech. The City also is one of the safest communities in the nation and boasts AAA bond ratings from all three national rating agencies, one of only 40 communities to achieve this distinction. For more information, visit the City website, or connect with the City on social media.
Media contacts:        
Trina Patterson
Northrop Grumman
480-814-6504 
Stephanie Romero   
City of Chandler, Public Information Officer
480-782-2231