Nov. 4, 2021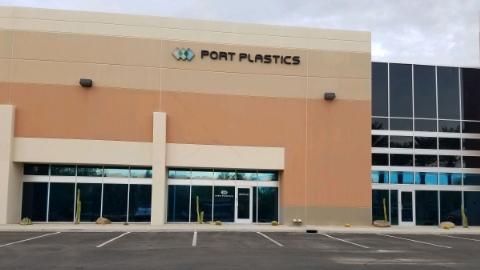 CHANDLER, Ariz. – Port Plastics, a leader in plastics distribution, is expanding in the Uptown Chandler employment corridor. For more than 26 years, Port Plastics has supported customers from all over the country from its Chandler facility, currently located at 120 E. Corporate Place. To accommodate future growth, the company has leased an adjacent suite that doubles its footprint to more than 40,000 square feet.
Port Plastics General Manager Patti Robison shared, "We are thrilled we were able to increase capacity and add new employees in our current location. Our extensive inventory of cutting-edge materials allows us to better service our customer base. We are proud to be a lasting part of the Chandler community."
"We are excited to see Port Plastics' expansion in Chandler," stated Chandler Mayor Kevin Hartke. "This successful company is adding jobs and supplying products to many of our targeted industries in Chandler. We wish them many years of continued success in Uptown Chandler."
Port Plastics has been an industry leader for 60 years, delivering technical support and cost-effective engineered plastic solutions to the Semiconductor, Oil & Gas, Food & Beverage, Aerospace & Defense, Transportation, and Medical industries. The company has locations in nine states across the U.S.
To learn more, visit Port Plastics.
About Port Plastics
A leader in plastics distribution with locations across the US. Port Plastics offers an extensive portfolio of engineering plastics for machining and fabrication. Our solid working relationships with the industry's leading suppliers allow us to provide top brands and technical support on advanced materials, complex applications, and fabrication techniques.
About the City of Chandler:
Chandler, Ariz. has built a reputation as a Community of Innovation. Life in Chandler goes beyond a thriving and dynamic business community with progressive entrepreneurship. Known for its rich diversity, the City offers an outstanding quality of life for all generations with great schools and recreational opportunities. Chandler has grown to become the state's fourth largest City with a population of more than 280,600. Chandler has been named one of the nation's Best Places to Find a Job and Best Cities for Women in Tech. The City also is one of the safest communities in the nation and boasts AAA bond ratings from all three national rating agencies, one of only 40 communities to achieve this distinction. For more information, visit the City website, or connect with the City on social media.

Media contact:
Stephanie Romero   
City of Chandler, Public Information Officer
480-782-2231