July 13, 2018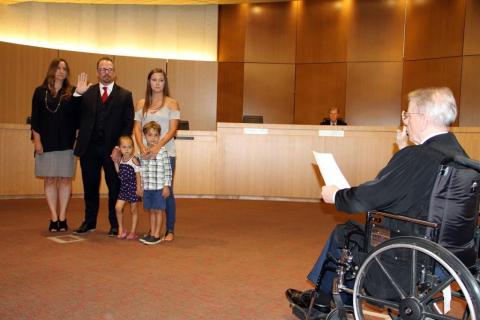 The Chandler City Council met at 7 p.m. Thursday, July 12, and took action on 30 agenda items.
Approved a contract with a shuttle service (Electric Cab North America, LLC) to provide free shuttle service from downtown parking garages to the historic square, beginning in early September. The one year contract is for an amount not to exceed $120,000 and the service would operate from 5-9 p.m. Thursday through Saturday.

Approved a $374,041 contract with Gavin & Barker, Inc., to design four lighted multi-use fields at Tumbleweed Park, to include a 320-space parking lot and restroom building.

Approved a $50,550 contract with Dick & Fritche Design Group for architectural design services for renovations to the arts lobby and box office areas of the Chandler Center for the Arts.

Approved a $56,829 contract with SDB, Inc., for renovation of the Tumbleweed Recreation Center lobby, to include construction of an additional customer service area, personal training assessment office, two staff offices, a feature wall and expanded storage area.

Approved the $135,058 purchase of furniture from Goodman's Inc., for use at the new Chandler Museum and remodeled McCullough-Price House.

Approved a preliminary plat for a charter school (Skyline Schools-Chandler) to be located near the southeast corner of Arizona Avenue and Riggs Road. The plat creates the lots and tracts, establishes the necessary easements and required right-of-way.

Approved the rezoning of a 35-acre parcel located on the southeast corner of Dobson and Frye roads from hospital to hospital with mid-rise overlay allowing for building heights up to 90 feet, plus approved a preliminary development plan for a parking garage.

Approved the housing product for a 17.5-acre development to be located at the southeast corner of Lindsay and Ocotillo roads. Prior approval was given for the zoning and subdivision layout, but designs for the housing product were not submitted at that time, requiring this later separate approval.

Approved an agreement with the Greater Phoenix Economic Council (GPEC) for regional economic development services in the amount of $119,868. The City has partnered with GPEC since 1989 to conduct marketing and business development lead generation.

Approved Liquor Use Permits for The Yard Cigar Bar located at 1981 W. Elliot Road and Tryst Café at 4205 S. Gilbert Road, Suite 1.

Recommended a Liquor License be approved by the State Department of Liquor Licenses and Control for Tryst Café, 4205 S. Gilbert Road, Suite 1.
The meeting concluded at 7:30 p.m.
During a Study Session and Regular Meeting on Monday, July 9, Mr. Jeremy McClymonds was sworn in as the City's newest Councilmember. He will complete the term of former Vice Mayor and Councilmember Nora Ellen, who is running for the state legislature.
The Mayor also proclaimed August 2018, as Drowning Impact Awareness Month in Chandler, to raise awareness of child drownings in the community and the importance of staying safe around water.
Mayor Tibshraeny and the City Council also recognized six employees for their service to the City of Chandler. Mayor & City Council Assistant Dave Bigos was recognized prior to his upcoming retirement after 25 years of service to the community. Executive Management Assistant Heather Figueroa was recognized for her 25 years of service. Police Records Specialist Denise Aguirre was honored for her 20 years serving the City and community, as was Police Officer Sean Payne for 15 years of service. Recognized for 10 years of dedicated service to the City were Recreation Coordinator Susan Richardson and Senior Management Analyst Debra Hodel.
The Mayor and Council also recognized Miss Arizona, Isabel Ticlo, a Hamilton High School graduate, and members of the Tullamore, Ireland Sister City delegation. The City of Chandler and the Town of Tullamore are part of the Sister Cities program which promotes economic cooperation, education and cultural exchange between the two cities.
Photos from the July 9 meetings may be viewed on the City's Facebook page.
The next meeting of the City Council will be a study session at 7 p.m. Monday, July 6. Council meetings are aired live, as well as replayed on The Chandler Channel, Cable Channel 11 (CenturyLink Channel 8002), and streamed on the web at Chandler Video and on YouTube.
Note: These are not official meeting minutes of the City Council but rather a brief recap of the Council's actions provided as a courtesy of the Chandler Communications and Public Affairs Department.
***
The City Clerk's office posts official meeting results the morning following Council meetings. For a complete list of actions taken, visit Chandler Meetings and Agendas.
Throughout the agenda, items are posted in red to signify any changes made at the meeting, and who voted no, or abstained. 
For past City Council meeting minutes, visit Chandler Meetings and Agendas or contact the City Clerk's office at 480-782-2180. For any other information, contact the Communications and Public Affairs Department at 480-782-2000.