May 28, 2021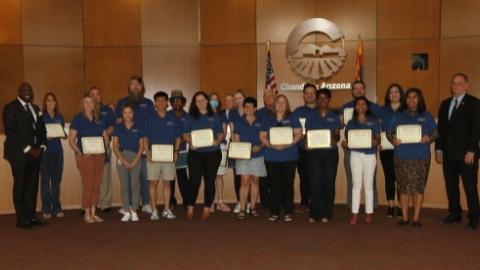 CHANDLER, Ariz. – The Chandler City Council met at 6 p.m. Thursday, May 27, taking action on a total of 25 agenda items. Meeting highlights included:
Approved a resolution to call a Special Bond Election to be held in and for the City of Chandler on Nov. 2, 2021.

Adopted the 2021-22 Tentative Budget and 2022-2031 Tentative Capital Improvement Program. Also gave notice of the dates and time for the final adoption of the budget on June 10, 2021, at 6 p.m. and the public hearing to set the tax levies on June 24, 2021, at 6 p.m.

Authorized a grant agreement with the Arizona Department of Transportation for the installation of a wildlife exclusion fence at the Chandler Municipal Airport in an amount not to exceed $996,750.

Authorized a grant agreement with the Federal Aviation Administration for reconstruction of drainage headwalls on a runway at the Chandler Municipal Airport in an amount not to exceed $300,000. Also approved a construction contract with Combs Construction Company, Inc. in an amount not to exceed $230,541 for the removal and replacement.

Approved the provisions of a purchase agreement for the sale of a City-owned property located at 51 E

. Boston St., to Specht Commercial Properties, LLC, who will operate a live comedy entertainment venue.

Approved the introduction and a tentative adoption for Commonwealth Lofts

. This amends the designated land use from low-density to Townhome medium-density residential on a 3-acre parcel located approximately a quarter mile south and west of Chandler Boulevard and McQueen Road.

Approved a permit extension for North Price Stables located on the east side of Price Road south of Elliot Road.

Approved a use permit for Infant Swimming Resource located at 2720 E. Coconino Drive.

Approved the purchase of backup and recovery for Office 365 from vCore Technology Partners in the amount of $118,066.

Approved the purchase of janitorial supplies from Waxie Sanitary Supply in an amount not to exceed $350,000, for the period of June 1, 2021, through May 31, 2022.

Approved the sole source purchase of Taser Conducted Energy Weapons from Axon Enterprise, Inc. This is the final purchase in the five-year payment plan in the amount of $106,746.70.

Approved the purchase of Dell laptop computers and peripherals for the Chandler Police Department from Dell Marketing, L.P. in the amount of $800,041 for use in patrol vehicles.

Approved the purchase of ammunition from Dooley Enterprise, Inc. in the amount of $123,864.87.

Approved an agreement with Consolidated Electrical Distributors for the purchase of LED luminaires and photocontrols for a one year period in a combined amount not to exceed $380,762. This allows for the purchase of more efficient LED luminaires to replace existing less efficient high pressure sodium light fixtures

Approved a professional services agreement with Brown and Caldwell, Inc. for the Sewer Lift Station rehabilitation design services in an amount not to exceed $483,188. The repair and rehabilitation work will include replacement of deteriorated access hatch covers, piping, rehabilitation of concrete coating systems, valve replacements, installation of fall protection grating and minor electrical improvements.

Recommended a Series 12, restaurant liquor license be approved by the State Department of Liquor Licenses and Control for Mexico Magico Y Cantina, located at 474 W. Ray Road.

Recommended a Class B Bingo license be approved by the Arizona Department of Revenue for Hope for the Homeless, Inc., located at Hob Nob Sports Grill, 7200 W. Chandler Blvd.
The meeting adjourned at 6:10 p.m.
During a Study Session on Monday, May 24, 2021, the Mayor and Council recognized:
Zelda Hernandez, a Housing Specialist in the Neighborhood Programs Department for her 25 years of service to the City of Chandler.

The 18 residents who participated in the City's first CIVIC program. This five-month long program provided participants a behind-the-scenes look at city departments and services, and is the latest offering by the City to help residents connect with their government. Each session, participants met with City leaders, toured facilities that keep our community running, participated in interactive sessions and learned how to stay engaged with their City and in their community.
Photos from the Study Session may be downloaded at downloaded online.
The next meeting of the City Council will be a study session, at 6 p.m. Monday, June 7.
Council meetings are aired live, as well as replayed on the Chandler Channel, Cox Channel 11 (CenturyLink Channel 8502), and streamed online at Chandler Video and on YouTube.
-30-
Note: These are not official meeting minutes of the City Council but rather a brief recap of the Council's actions provided as a courtesy of the Chandler Communications and Public Affairs Department.
The City Clerk's office posts official meeting results the morning following Council meetings. For a complete list of actions taken, visit Chandler Meetings and Agendas. Throughout the agenda, items are posted in red to signify any changes made at the meeting, and who voted no, or abstained. 
For past City Council meeting minutes, visit Chandler Meetings and Agendas or contact the City Clerk's office at 480-782-2180. For any other information, contact the Communications and Public Affairs Department at 480-782-2000.
Media contacts:
Stephanie Romero
Public Information Officer
480-782-2231 | 602-412-7228 cell
Jennifer Honea
Public Information Officer
480-782-2228