Jan. 25, 2021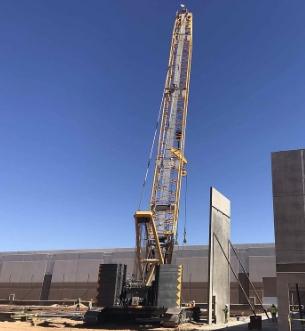 New Mexico-based Rinchem is announcing a 50,000 square foot expansion to their existing building in West Chandler, located at 6805 W. Morelos Place. Construction of the shell is nearly complete and the company plans to begin operating in the building by June 2021.
Rinchem is a chemical management company that provides high purity, pre-packaged chemicals and gases. The primary industries that Rinchem serves include pharmaceutical, biotech, semiconductor and aerospace.
Rinchem's existing building on this site is 100,000 square feet and was completed in 2015. This $10 million investment will lead to approximately 25 new jobs with room for additional expansion in the future.
"Rinchem is in a great location for growth with the Loop 202 South Mountain Freeway expansion providing further access to talent for West Chandler employers," stated Chandler Mayor Kevin Hartke. "Our West Chandler employment corridor is home to nearly 30,000 employees and we are thrilled to see hiring growth from Rinchem." 
"We're excited to be a part of a collaborative effort with the City of Chandler to expand our facility," said Chuck Breinholt, CEO of Rinchem Company, Inc. "Rinchem is dedicated to growth as we challenge ourselves to regularly innovate and improve. We look forward to the expansion and to adding well-paying jobs to Chandler's local economy."
About Rinchem:
Rinchem Company, Inc. is the largest network of chemical and gas distribution centers globally with proven expertise in creating and managing safe and efficient supply chains for high purity, pre-packaged chemicals and gases. They apply four decades of expertise, industry thought leadership, and logistics transparency in order to provide the most reliable, efficient, and cost-effective solutions for its customers. For more information, visit Rinchem.com and follow Rinchem on Facebook or LinkedIn.

About the City of Chandler:
Chandler, Ariz. has built a reputation as a Community of Innovation. Life in Chandler goes beyond a thriving and dynamic business community with progressive entrepreneurship. Known for its rich diversity, the City offers an outstanding quality of life for all generations with great schools and recreational opportunities. Chandler has grown to become the state's fourth largest City with a population of more than 266,000. Chandler has been named one of the nation's Best Places to Find a Job and Best Cities for Women in Tech. The City also is one of the safest communities in the nation and boasts AAA bond ratings from all three national rating agencies, one of only 40 communities to achieve this distinction. For more information, visit the City website, or connect with the City on social media.
 
Media contacts:     
Andy Sutton
Rinchem Company, Inc., Director of Sales and Marketing
505-998-4100 
Stephanie Romero   
City of Chandler, Public Information Officer
480-782-2231