Dec. 7, 2020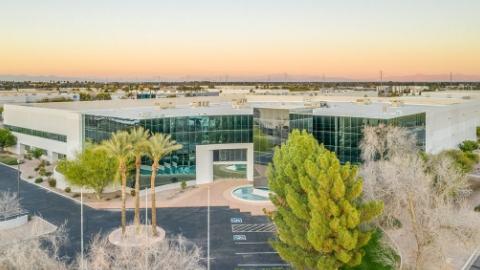 Comtech EF Data Corp., a wholly-owned subsidiary of Comtech Telecommunications Corp. (a publicly traded company under the symbol "CMTL") has signed a 15-year lease to occupy the entire 146,000 square feet at 305 N. 54th St. The company will be consolidating between 300 to 400 employees from four buildings currently in Tempe, Arizona, into the single building that can facilitate all operations and provide for future expansion. Comtech plans to begin operating in the building by June 2021.
Comtech designs, develops and manufactures satellite ground equipment used throughout the world. The new manufacturing facility will utilize state-of-the-art design and production techniques, including analog, digital and RF microwave production, hardware assembly and full-service engineering. It will support the anticipated growth and long-term business goals of Comtech and enable the company to realize operating cost savings and efficiencies. In addition, based on the new location in the well-known technology corridor of Chandler, Arizona, many employees of the company will have reduced commute times, resulting in positive environmental impacts and less congestion.
The office is conveniently located at the intersection of I-10 and the South Mountain Loop 202 with a wide selection of surrounding retail shops and restaurants in walking distance. The new facility offers an excellent mix of office space, common areas and manufacturing for a building that allows industrial uses.  In addition, the building offers a unique floor-to-ceiling glass entrance on 54th Street and a covered parking garage in the rear.
"The West Chandler employment corridor's central location and highly skilled workforce has a long track record of attracting advanced technology companies like Comtech," stated Chandler Mayor Kevin Hartke. "Comtech is a respected leader in the telecommunications industry and we look forward to building a close partnership with them in the years ahead."
"While the Chandler-based building will be primarily used for Comtech EF Data personnel and operations, we will also leverage the new high-volume technology manufacturing facility for our other business segments," commented Fred Kornberg, Chairman of the Board and Chief Executive Officer of Comtech.
About Comtech:
Comtech EF Data Corp. is a leading supplier of communications equipment with a focus on satellite bandwidth efficiency and link optimization. The high-performance satellite communications ground equipment is deployed globally to support mission-critical and demanding applications for government, mobile backhaul, premium enterprise and mobility. Service providers, satellite operators, governments and commercial users wanting to optimize communications, increase throughput and delight customers, are leveraging the performance and flexibility of the Comtech brand. The solutions are facilitating fixed and mobile networks in 160+ countries and across every ocean. For more information, visit comtechefdata.com.
Comtech Telecommunications Corp. designs, develops, produces and markets innovative products, systems and services for advanced communications solutions. The Company sells products to a diverse customer base in the global commercial and government communications markets.

About the City of Chandler:
Chandler, Ariz. has built a reputation as a Community of Innovation. Life in Chandler goes beyond a thriving and dynamic business community with progressive entrepreneurship. Known for its rich diversity, the City offers an outstanding quality of life for all generations with great schools and recreational opportunities. Chandler has grown to become the state's fourth largest City with a population of more than 266,000. Chandler has been named one of the nation's Best Places to Find a Job and Best Cities for Women in Tech. The City also is one of the safest communities in the nation and boasts AAA bond ratings from all three national rating agencies, one of only 40 communities to achieve this distinction. For more information, visit the City website, or connect with the City on social media.

Media contacts:
Stephanie Romero   
City of Chandler, Public Information Officer
480-782-2231 
Sue Lassandro
Comtech EF Data
480-333-2289 work | 480-620-0222 cell