Feb. 16, 2021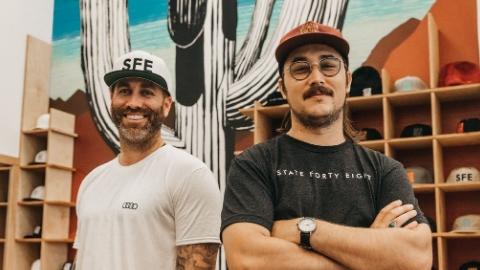 As they approach eight years in business, Chandler-based apparel and lifestyle company State Forty Eight (SFE) is looking towards the future. Beginning in February, the Valley startup will take over the suite next door to their Chandler retail location on Arizona Avenue and Elliot Road (3245 N. Arizona Ave.), to make it their official Headquarters. The move is part of the company's mission to expand operations and amplify their newly launched screen printing and embroidery services.
"The decision to expand our space and our services was simply the natural progression of where our business is headed," said State Forty Eight Co-Founder and CEO, Michael Spangenberg. "The goal is to bring as much as we can in-house in order to improve productivity and expenses."
The expansion will add a total of 5,500-square-feet to the current facilities and includes more offices, a boardroom that hosts up to 12, a dedicated creative space for the design team and any photo or video production, as well as a warehouse dedicated to screen-printing and embroidery services.
State Forty Eight announced their screen printing and embroidery services in late 2020. Since, they have been working with clients who are interested in creating their own merchandise without the standard State Forty Eight branding that the collaboration T-shirts the company is known for, typically call for.
The options range from T-shirts and hats to masks, outerwear, tote bags and more. SFE screen printing and embroidery is a local solution for individuals and businesses looking for a unique way to: market a cause or an event, commemorate an occasion, create new team uniforms, or even as gifts for your employees or team members. All that interested parties need to do is provide the project details and then SFE will take care of the rest.
According to Spangenberg, the long-term goal is to become a one-stop shop for Arizona's merchandising needs. From manufacturing, design and branding to retail and fulfillment.
"State Forty Eight has been an incredible partner not only for the City of Chandler, but for organizations across the state," said Chandler Mayor Kevin Hartke. "This expansion will allow their impact to be even greater, and I am thrilled that Chandler will continue to be part of their story."
With this expansion, the customer experience at the Chandler retail location which will also see improvements as SFE readies to move Headquarters next door. Customers can look forward to more retail space and a dedicated fulfillment area, giving customers access to more products.
While the move is in progress, SFE is still open for business and taking inquiries for screen printing and embroidery services. Those interested in learning more can send an email to info@statefortyeight.com to get a quote.

About State Forty Eight
Founded in 2013 by local entrepreneurs, Michael Spangenberg and Stephen and Nicholas Polando, State Forty Eight was born out of a shared passion and appreciation for the great state of Arizona. More than just apparel line, State Forty Eight represents a lifestyle, a sense of community, and is an expression of pride. From sports fans and outdoor explorers to the more fashion-forward, the homegrown brand offers gear for all that's both stylish and comfortable. Above all else though, State Forty Eight is about redefining the status-quo and inspiring others to rise up and stand for something they believe in, and the logo serves as a reminder to proclaim your passions but never forget where you came from. For more information, please visit State Forty Eight or find us on Instagram and Facebook.
About the City of Chandler
Chandler, Ariz. has built a reputation as a Community of Innovation. Life in Chandler goes beyond a thriving and dynamic business community with progressive entrepreneurship. Known for its rich diversity, the City offers an outstanding quality of life for all generations with great schools and recreational opportunities. Chandler has grown to become the state's fourth largest City with a population of more than 266,000. Chandler has been named one of the nation's Best Places to Find a Job and Best Cities for Women in Tech. The City also is one of the safest communities in the nation and boasts AAA bond ratings from all three national rating agencies, one of only 40 communities to achieve this distinction. For more information, visit the City website, or connect with the City on social media.
Media contacts:
Janice Vega
520-270-3510                                                                                                 
pr@statefortyeight.com
Stephanie Romero
City of Chandler, Public Information Officer
480-782-2231