Dec. 10, 2019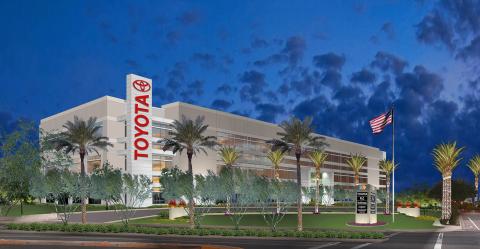 Toyota Financial Services, the finance brand for Toyota in the United States, will be expanding its presence in Chandler's Price Corridor. The company has signed a lease for 63,000 square feet in a new building within the Park Place business park at 1650 S. Price Road. The office will provide seats for 300 employees as well as valuable space for training, conferencing, collaboration and breaks.
"We are thrilled to have Toyota Financial at Allred Park Place," said David Allred, President of the Douglas Allred Company. "With the addition of this great company, it just reaffirms that Chandler, Arizona is the best place for Fortune 500 companies to thrive."
The expansion is part of a planned nationwide restructuring first announced by Toyota Financial Services in April 2019. The company is in the process of streamlining its field office structure and investing in new technology to better serve its dealer partners. The new Chandler office will operate as one of three regional dealer service centers (West region), along with Plano, Texas (Central region) and Atlanta, Georgia (East region). It is expected to open during the third quarter of 2020.
"We are excited that Toyota Financial Services continues to expand in Chandler," said Chandler Mayor Kevin Hartke. "Toyota Financial Services has been in Chandler for more than 15 years and this new project represents another significant investment in our community."
Toyota Financial Services is already a leading employer in Chandler, with approximately 700 workers at its Western region customer service center at 3200 W. Ray Road. That office focuses on serving loan and lease customers.
"We are pleased to expand our footprint in Chandler, building on the success we have enjoyed with our Customer Service Center in the city," said Tim Conlon, Toyota Financial Services Corporate Real Estate and Workplace National Manager.
Access to talent is the primary reason why major corporations like Toyota Financial Services continue to locate in Chandler and other East Valley communities. The Phoenix metro area is one of the fastest growing regions in the United States and domestic migration is driving this growth. Companies have found that – in addition to local talent – they can attract workers looking to leave central cities for suburbs that offer better job opportunities and a similar lifestyle at a more affordable price. 
To learn more about the City of Chandler's business environment and other business news, visit Chandler Economic Development.