July 25, 2018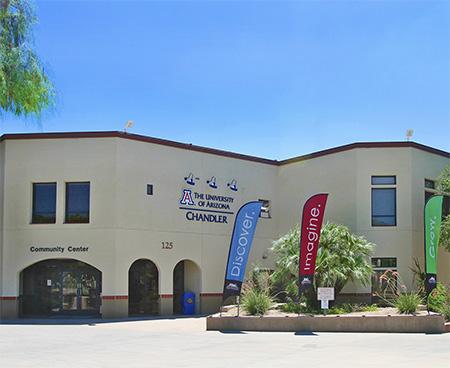 The City of Chandler and the University of Arizona (UA) are pleased to announce that UA will soon be offering undergraduate courses in Chandler. The classes will be held at UA's Chandler location, 125 E. Commonwealth Ave. The university plans to offer four courses at the facility in fall 2018, and another six courses are planned for spring 2019 with start dates in January and March.
"The City of Chandler has been a strong partner in our efforts to collaborate with industry leaders and produce work-force ready graduates," said Sarah Wieland, assistant dean of UA's branch campus. "The University of Arizona in Chandler will offer high-quality educational credentials in Cybersecurity and other in-demand fields that serve the specific needs of local industry."
The courses offered in Chandler are requirements for four UA undergraduate degrees: Bachelor of Applied Science programs in Cyber Operations, Human Services, Informatics, and Network Operations. In addition, the university will offer an undergraduate certificate in Cybersecurity.
"We are thrilled that the University of Arizona is enhancing its course offerings in Chandler," said Chandler Mayor Jay Tibshraeny. "As the Innovation and Technology Hub of the Southwest, it is critical that our residents have access to higher education programs that prepare them for a tech-focused workforce."
The UA currently is seeking applications for adjunct instructors to teach courses in the various Bachelor of Applied Science degree programs. The university is also looking for area businesses interested in student intern and corporate partnership opportunities.
In addition to the new courses, UA will continue to host boot camps in Chandler to teach job-ready skills for the digital economy. The university launched a part-time, 24-week Data Analytics Boot Camp in Chandler this past March and currently is enrolling students for a full-time, 12-week Coding Boot Camp that will begin in September.
"At MST Solutions, we are always looking to hire talented graduates who have the technical expertise to hit the ground running and have an immediate impact in fueling our growth," said Thiru Thangarathinam, chief executive officer at MST Solutions in Chandler. "With the new programs offered in Chandler, we look to the University of Arizona to provide top tier technical talent as part of our growth strategy and expansion in the Southwest."
For more information about UA course offerings in Chandler, email Sarai Alvarado, student services coordinator.