Oct. 26, 2020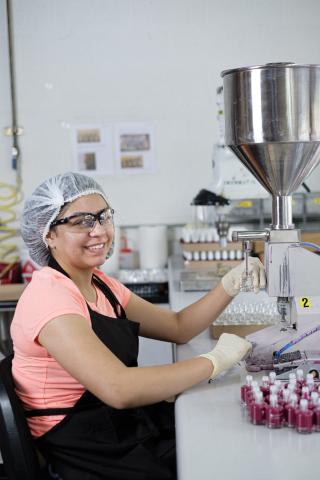 VB Cosmetics Inc. has signed a 40,000 square-foot lease to expand and relocate their corporate headquarters, R&D and manufacturing operations in Chandler. The company will be moving into the Lotus Project, one of Chandler's premier industrial developments, located near Kyrene Road and the Loop 202.
VB Cosmetics Inc. is a manufacturing company engaged in the creation and sale of cosmetics and personal care products. It is also the inventor of Dazzle Dry®, a quick-dry, award-winning and proprietary nail polish system that is revolutionizing the multi-billion dollar US nail salon and spa industries.
"VB Cosmetics is in a premier location for continued growth and success," stated Chandler Mayor Kevin Hartke. "We are thrilled they found a new home in Chandler that will allow them to take their innovative cosmetics enterprise to the next level."
Construction for the project is expected to start immediately with VB Cosmetics targeting to be fully moved into their new headquarters, designed to efficiently process and manage materials, by April of 2021. This relocation and facility expansion will allow them to meet the increased product demands with new automation and continued innovation as they aim to grow their employee headcount from 50 employees to 120 over the next three years.
"It was important for us to not only keep the company growing here in Arizona, but specifically in Chandler where it all started, the City is most welcoming and where we have so many personal roots," says Dr. Vivian Valenty, Founder of VB Cosmetics. "The new building at the Lotus Project truly is a symbol of the next phase of VB Cosmetics – one where our newly established and nurtured working community members can help each other be successful to create and enjoy opportunities and take the brand into the next level with manufacturing developments that will best serve both our local community and all customers nationally and globally equally."
The award-winning Lotus Project was developed by Conor Commercial Real Estate and incorporates four Class A industrial buildings designed for advanced manufacturing and light industrial. The development is now 95% leased with the signing of VB Cosmetics. Phase II of the Lotus Project will commence shortly and will feature an additional three industrial buildings.
"The Lotus Project is the perfect fit for VB Cosmetics, and I'm confident that their business will thrive there," commented Derek Buescher, Development Manager at Conor. "The development's unique design matches VB Cosmetics' innovative presence in the cosmetics industry, and the building's location will provide numerous advantages to the business and its employees." 
About VB Cosmetics:
VB Cosmetics is a manufacturing company incorporated in the state of Arizona that has transitioned from its beginnings as a private label manufacturer of its inventions to building its own global brands of clean, nature- and science-based, functional and proprietary beauty products. Its transformational product called Dazzle Dry®, a quick-dry nail polish system, is living up to these attributes and revolutionizing the nail industry, creating a class of its own. The company sells direct to consumers at retail prices and to salons and spas at wholesale prices.

About the City of Chandler:
Chandler, Ariz. has built a reputation as a Community of Innovation. Life in Chandler goes beyond a thriving and dynamic business community with progressive entrepreneurship. Known for its rich diversity, the City offers an outstanding quality of life for all generations with great schools and recreational opportunities. Chandler has grown to become the state's fourth largest City with a population of more than 265,000. Chandler has been named one of the nation's Best Places to Find a Job and Best Cities for Women in Tech. The City also is one of the safest communities in the nation and boasts AAA bond ratings from all three national rating agencies, one of only 40 communities to achieve this distinction. For more information, visit the City website, or connect with the City on social media.
 
About Conor Commercial Real Estate:
Conor Commercial Real Estate is the integrated real estate development and investment arm of The McShane Companies headquartered in suburban Chicago, Illinois with regional offices located in Dallas, Irvine and Phoenix. Conor Commercial Real Estate is active on a local, regional and national basis in the development of speculative and build-to-suit industrial, office and multifamily communities. For more information on Conor Commercial Real Estate, visit the firm's website at conor.com.

Media contacts:
Nicole Myden
The PR Concierge
310-502-9921 cell
Stephanie Romero
City of Chandler, Public Information Officer
480-782-2231