Feb. 23, 2022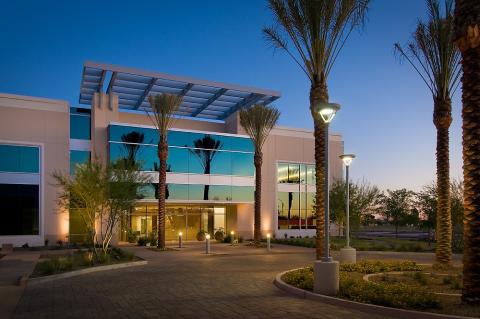 CHANDLER, Ariz. — Viavi Solutions Inc.  (NASDAQ: VIAV) ("VIAVI"), a global leader in network testing and optical technologies, has leased 15,000 square feet of office space in Chandler's Price Corridor. The office building is located within the Allred Park Place development at 1445 S. Spectrum Blvd.
In February 2021, VIAVI announced Chandler was selected for a new advanced manufacturing operation and the relocation of their corporate headquarters from Silicon Valley. VIAVI purchased a 104,000-square-foot industrial building at 3455 S. McQueen Road, where it planned to co-locate its headquarters within the same facility, but recently determined that it needed additional space. The two facilities are separated by only a few miles, with the new office in Chandler's Price Corridor and manufacturing operation in the Airpark Area.
Combined, the headquarters and manufacturing operations are expected to support 230 jobs. The company has more than 3,600 employees across 22 countries. Since moving its headquarters in 2021, VIAVI has actively contributed to the economic and technological communities in Arizona, including the establishment of a scholarship at the University of Arizona Wyant College of Optical Sciences, creating opportunities for current and future professionals.
"We are excited about this office lease and expect that VIAVI will continue to expand within Chandler in the years ahead," stated Chandler Mayor Kevin Hartke. "VIAVI is a world-class advanced manufacturer that is a great fit for Chandler's highly educated workforce. We appreciate the company's investment and the high-paying jobs they are bringing to our community."
"This new office is located in a beautiful, modern area and provides additional space for us to expand in Chandler," stated Petra Nagel, Senior Vice President, Human Resources, VIAVI. "It has been a pleasure working with Chandler's Economic Development team as we build out our manufacturing and continue adding executive leadership positions in Arizona."
"We are very excited about having Viavi at Allred Park Place, stated Cathy Exeter, Senior Vice President, Douglas Allred Company. "We think they are a great addition to our corporate campus and look forward to a long partnership with them."
About VIAVI
VIAVI (NASDAQ: VIAV) is a global provider of network test, monitoring and assurance solutions for communications service providers, enterprises, network equipment manufacturers, government and avionics. We help these customers harness the power of instruments, automation, intelligence and virtualization to Command the network. VIAVI is also a leader in light management solutions for 3D sensing, anti-counterfeiting, consumer electronics, industrial, automotive, and defense applications. Learn more about VIAVI or follow us on VIAVI Perspectives, LinkedIn, Twitter, YouTube and Facebook.
About the City of Chandler
Chandler, Arizona has built a reputation as a Community of Innovation. Life in Chandler goes beyond a thriving and dynamic business community with progressive entrepreneurship. Known for its rich diversity, the City offers an outstanding quality of life for all generations with great schools and recreational opportunities. Chandler has grown to become the state's fourth largest City with a population of more than 281,000. Chandler has been named one of the nation's Best Places to Find a Job and Best Cities for Women in Tech. The City also is one of the safest communities in the nation and boasts AAA bond ratings from all three national rating agencies, one of only 40 communities to achieve this distinction. For more information, visit the City website, or connect with the City on social media.
About Douglas Allred Company
At Douglas Allred Company, we are a full-service real estate firm with projects in office, industrial and retail throughout Arizona and California. We launched our first project in 1978 and moved into development in Arizona in the 90s. Since then, we have maintained a continuous presence in large developments across the Valley and garnered a reputation as a bold and visionary company with actions based on in-depth market knowledge, sound planning and conservative fiscal operations. 
Totaling approximately 13 million SF development through the Valley, 2 million SF of that in 2019 alone, our team of 30+ employees has impacted the office and industrial market in such well-known developments as Cotton Center, Southbank, AllredTech Center, Eastbank and Park Place.
Media contacts:             
Stephanie Romero        
City of Chandler, Public Information Officer
480-782-2231 
Amit Malhotra
VIAVI Solutions
Global Lead, Communications