Oct. 22, 2018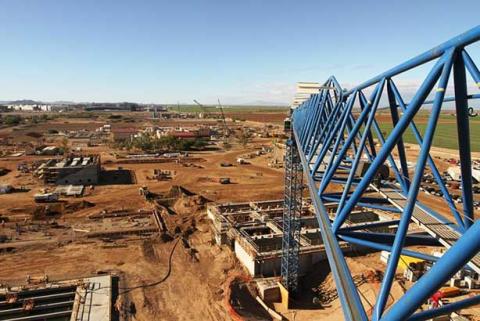 A $122 million construction project that expanded the wastewater treatment capacity of Chandler's Ocotillo Water Reclamation Facility (OWRF) has received a 2018 Best Projects Award for the Southwest Region from Engineering News-Record (ENR).
ENR magazine is considered the "bible of the commercial construction industry," with 600,000 readers per month, and their Best Projects Award is one of the most coveted awards in the industry.
ENR awards cover a variety of building and infrastructure categories ranging from Best Green Project to Best Highway Project. The OWRF Expansion project won in the "Water/Environment" category and will be featured in the magazine's Nov. 5 issue of ENR Southwest. All winners will be honored at an event in Phoenix Nov. 12.
The competition was open to projects completed in Arizona, Nevada and New Mexico between July 2017 and June 2018. Chandler's expanded OWRF facility was completed in May, 2018. The project expanded the treatment capacity of the plant from 10 million gallons per day (mgd) to 15 mgd to meet increasing demands, while supporting the future growth potential in the Ocotillo and Price Road Corridor area.
"This is one more example of the national stature our Public Works & Utilities Department has attained," said Mayor Jay Tibshraeny. "They continue to set the standard for professionalism and efficiency and do a tremendous job building and maintaining our transportation, solid waste and water resource infrastructure."
The complex project required that the OWRF remain in operation while undergoing expansion. Hundreds of skilled workers spent 473,981 man-hours on the project without a single lost-time accident.
A unique joint venture involving two respected construction companies, Sundt Construction and McCarthy Building Companies, accomplished the work. Carollo Engineers and Wilson Engineers performed the design and MakPro Services, LLC, assisted the City with community outreach.
The recognition by ENR comes on the heels of another award presented to the City and project team in May by the Arizona Water Association. The Association, founded in 1928 and dedicated to preserving and enhancing Arizona's water environment, named the OWRF Expansion Project their 2018 Wastewater Project of the Year.