Nov. 15, 2021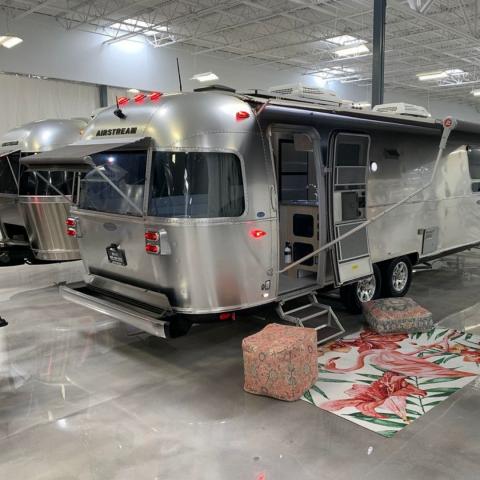 CHANDLER, Ariz. — We Are Airstream has purchased a new sales and servicing facility in Chandler, Ariz., at 1375 S. Arizona Ave., located on the southeast corner of Loop 202 and Arizona Avenue. The 136,000-square-foot freestanding building sits on 14.9 acres. The new Chandler location is now open to customers while Airstream finishes construction on exterior improvements. 
Airstream trailers are famous for their distinctive round shape and polished aluminum. Introduced in 1932, Airstream continues to be one of the top sellers in the Recreational Vehicle (RV) business. Sales in the RV industry have increased significantly over the last several years as Americans look for experiential outdoor trips and baby boomers retire. In addition, the pandemic has led to more customers considering the mobile, outdoor lifestyle that an RV provides.
This new facility will allow We Are Airstream to service the growing southeast valley and entire metropolitan region. The floorplan will be approximately 40% showroom and sales, with the remaining space dedicated to servicing and storage. We Are Airstream expects to have 60 employees working at the facility, in roles such as technicians, concierge ambassadors, property maintenance, accounting and sales experts.
"We are thrilled to welcome We Are Airstream to Chandler and appreciate their significant investment into this important property," stated Chandler Mayor Kevin Hartke. "The Airstream product has built a loyal following over many decades and we wish them many years of success at their new location in Chandler."
"We searched diligently and strategically to find a new location and couldn't be happier to land in Chandler," stated Aaron Korges, We Are Airstream's President. "Chandler is at the heart of the burgeoning southeast valley and we were impressed with the strong demographics in the area. We look forward to building a long-term relationship with the community as we ramp up operations in Arizona."
 
About We Are Airstream:
We Are Airstream (formally known as Airstream of Scottsdale) is pleased to announce our new location coming to Chandler in 2021. As the sole Arizona Airstream dealer north of Tucson, We Are Airstream serves the entire Phoenix Metro area for all of your Airstream needs. This family run business has been selling travel trailers for over 20 years and is the premier destination, helping both new and experienced RVers alike with all their travel trailer needs, including sales, service and storage.
We Are Airstream's Chandler facility will be the largest in the nation for all things Airstream. In addition to a 136,000+ SF showroom, it will also feature personalized RV sales, concierge services, and a service center. It will truly be a destination for "Airstreamers," adventure seekers, and travelers alike. We Are Airstream can help make your RV dreams become a reality and put you on the road in your own Airstream adventure. The public is encouraged to stop by We Are Airstream's showroom or browse their extensive selection online at weareairstream.com.
About the City of Chandler:
Chandler, Ariz. has built a reputation as a Community of Innovation. Life in Chandler goes beyond a thriving and dynamic business community with progressive entrepreneurship. Known for its rich diversity, the City offers an outstanding quality of life for all generations with great schools and recreational opportunities. Chandler has grown to become the state's fourth largest City with a population of more than 280,600. Chandler has been named one of the nation's Best Places to Find a Job and Best Cities for Women in Tech. The City also is one of the safest communities in the nation and boasts AAA bond ratings from all three national rating agencies, one of only 40 communities to achieve this distinction. For more information, visit the City website, or connect with the City on social media.

Media contact:
Stephanie Romero
City of Chandler, Public Information Officer
480-782-2231