March 26, 2018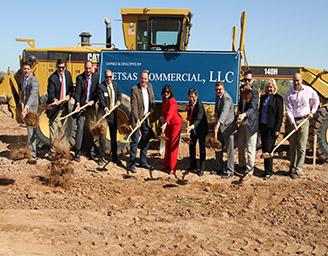 The Westech Business Center broke ground today, marking the latest speculative industrial development to begin construction within the City of Chandler as it aims to attract more jobs and companies. 

Once completed in October, the 122,505-square-foot industrial facility will incorporate an attractive design coupled with state-of-the-art features making it ideal for a myriad of industrial users, including corporate headquarters, manufacturing, assembly, logistics and last mile distribution. 

The project's owner and developer, Petsas Commercial, LLC, is a locally-based development firm started in 2017 by Bill Petsas. Willmeng Construction is the general contractor and project manager. Butler Design Group, Inc. is the architect. The Koss | Louer Team of Lee & Associates | Arizona exclusively represents the property.

"Petsas Commercial (Bill Petsas) recognized the excellent opportunity to purchase and develop this infill site to meet user needs in the SEC," said Stein Koss, SIOR, from The Koss | Louer Team of Lee & Associates | Arizona. 

The $10.5 million project will have five entries for future divisibility and features enough parking to attract more intensive office, showroom or manufacturing uses. Located at 300 E. Palomino Dr., the facility boasts a strategic location at the geographic center of the East Valley with quick access to three freeways (US-60, Loop 101 and Loop 202). 

"We are pleased to welcome Westech Business Center to Uptown Chandler, one of our city's major employment corridors," said City of Chandler Vice Mayor Nora Ellen. "We look forward to the project's development as well as the new businesses and employees it will be bring to the area." 

Building on the city's forward-thinking entrepreneurial spirit, innovation and hometown traditions as a technology and employment hub, the Westech Business Center will tap into Uptown Chandler's large and well-educated workforce, averaging a household income of $77,000 at an average age of 33. 

"Chandler is an ideal location for a building with this much flexibility," said Tom Louer from The Koss | Louer Team of Lee & Associates | Arizona. 

Leveraging the lessons learned from 23 years of working with public real estate investment trusts (REITs), Petsas formed his own real estate development and investment company to pursue industrial acquisition and development opportunities. 

He said, "Chandler is a well-run city with a great workforce and major players in high tech manufacturing, which is why a place of employment, like Westech Business Center is a perfect fit for Chandler." 

The building will incorporate sustainable features such as LED lighting, white TPO roof, skylights, bike racks, and extensive use of local materials to reduce its carbon footprint. The loading side of the building will feature a fenced and secure 185-foot truck court, which can be used for outside storage, trailer parking or additional automobile parking. 

For more information on the project, visit leearizona.com, contact Stein Koss at 602-912-3520, or contact Tom Louer at 602-954-3779.