The Chandler Fire Department's Crisis Response Unit, or CR288, is a dedicated team of highly trained staff and volunteers who assist people with practical and emotional needs following traumatic events. By providing valuable social services, this unit enables Fire and Police personnel to more quickly return to their normal operational duties.
CR288 is dispatched in conjunction with Fire and/or Police emergency units to provide crisis intervention, support and resource referral services. The Crisis Intervention Specialists partner with Chandler's Public Safety personnel to help ensure fast and thorough resolution in a variety of situations.
On the crisis scene, the two-person CR288 team is able to fully focus on the emotional and social needs of the family and/or individual in crisis while the Police and Fire personnel attend to law enforcement, medical emergency, and fire suppression needs.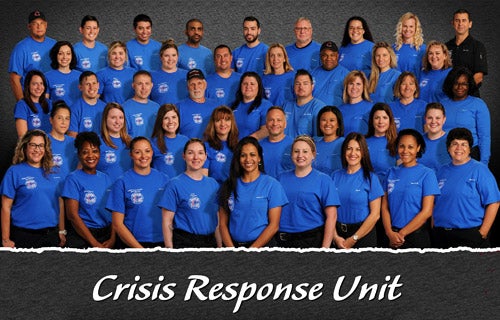 CR288 depends on dedicated volunteers who want to make a difference in the lives of others.
Our Mission
The roles of the CR288 team are to:
Provide immediate crisis intervention and on-scene victim assistance.
Provide emotional support and information and referrals to clients.
Bridge the communication between clients, CFHM and police departments.
Each two-person team is comprised of Crisis Intervention Specialists (Masters of Social Work or other behavioral health degrees), Masters level student interns, and/or highly trained community volunteers.
Operations
CR288 operates 24 hours a day, 7 days a week. Some of the call types the unit may be dispatched to include:
Adult, child, and infant deaths
Pediatric emergencies
Drownings
Serious medical emergencies
Sexual assaults
Structure fires
Violent crimes
Domestic violence
Behavioral emergencies
Assist homeless
Death notifications
Traffic collisions
Suicide completions, attempts, ideations
Child or elder abuse, neglect, exploitation
As requested by the Chandler Police and Chandler Fire Departments.