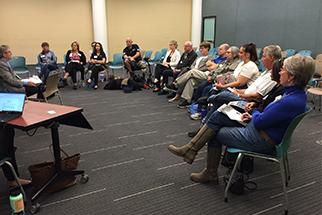 The City of Chandler is inviting individuals and organizations to participate in a Community Needs Assessment that allows participants the opportunity to provide ideas and recommendations through a community input session.
The purpose of the assessment is to identify and understand the needs of Chandler residents, determine the services and service levels required to meet those needs, and develop guidelines to maximize the effectiveness of federal, state and local resources allocated for this purpose.
Now you have the opportunity to make your voice heard on these important topics.
This session will take about 90 minutes, and refreshments will be provided.
Join the Conversation
You are welcome to attend this community input session.
Date
Location
Topics
Saturday, March 30
10 a.m.
Chandler Downtown Library
Copper Room South 
22 S. Delaware St.

Senior services
Veterans services
Crisis services
Health and behavioral health services 
Homeless and domestic violence services
Housing for all incomes
Services for people with disabilities
Youth services
Neighborhoods and workforce development