Recycling and trash containers are collected weekly. 
To ensure collection service is not interrupted, have your container at the curb by 6 a.m. on your day of collection, or after 6 p.m. the evening before your collection day. Remove your container from the curb no later than 9 a.m. the day after collection.
If you have alley trash collection, please call customer service for your trash collection days. You can also enter your address using Recycle Coach. You can also find your collection days and set reminders on the free Recycle Coach app.
For questions about recycling or trash collection, call Solid Waste Services at 480-782-3510.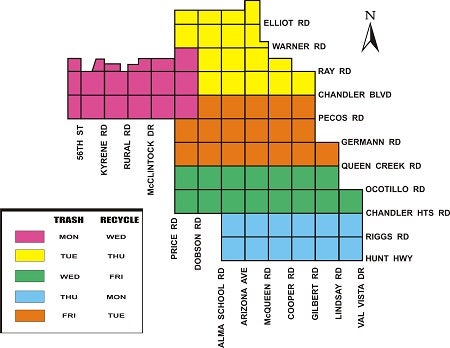 Effective March 6, 2017
Tips for Container Placement to ensure your service is not interrupted:
Place container in the street by 6 a.m. on your scheduled collection day. Container lid should close completely
DO NOT block the sidewalk for pedestrian use
DO NOT place your container near parked vehicles
DO NOT place items on top of or next to the container
DO NOT place your container near permanent structures, such as mailboxes or street light poles
Remove your container from the curb by 9 a.m. no later than the day following collection (Per Chandler City Code, Chapter 44)
DO NOT place the following material in your recycling or trash containers:
Dirt, rock, concrete, tile, construction debris
Hot ashes (cigarette paraphernalia, hot coals and/or wood)
Motor oil, gasoline, antifreeze, Kerosene
Paint, varnish, pesticides or other household chemicals
Auto batteries, rechargeable NiCad or Lithium batteries.
Liquid cooking oil from fryer.
How do I properly dispose of these materials?
Household waste containing warning labels describing the waste as Toxic, Reactive, Ignitable or Corrosive are accepted at the Household Hazardous Waste Collection Center by appointment only. For more information call Solid Waste Customer Service at 480-782-3510.