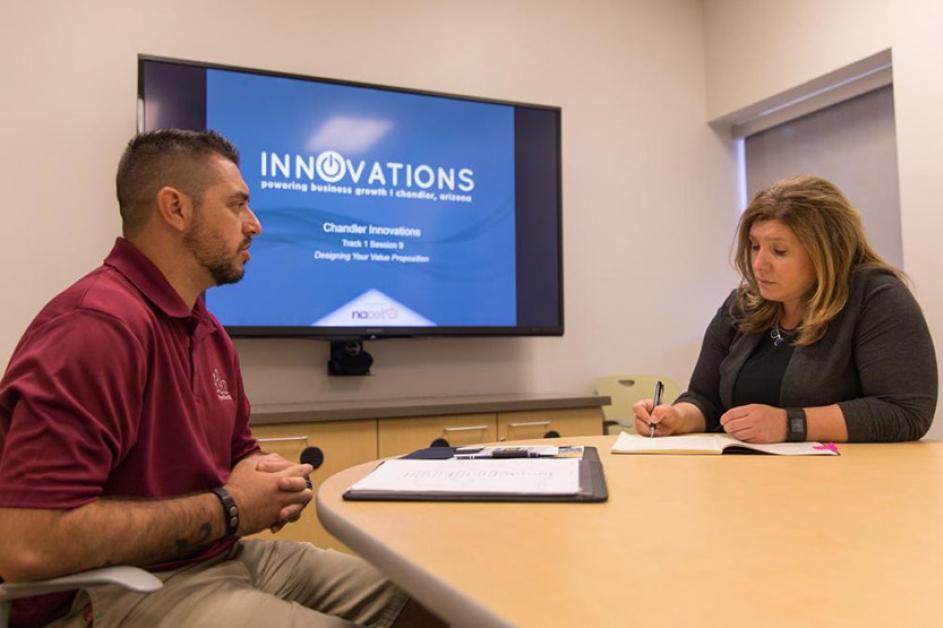 In Chandler, innovation and entrepreneurship are at the core of who we are. From welcoming self-driving vehicles to creating an environment where semiconductor and aerospace companies develop pioneering technologies, the City has a long history of embracing and fostering business growth.
Drive through one of the City's employment corridors and you'll see plenty of big-name corporations on large campuses. Take a closer look and you'll also find thriving, homegrown companies, exciting startups and an entrepreneurial ecosystem that encourages new business ventures. Together, these ingredients make Chandler a true Community of Innovation.
Here are five facts about entrepreneurship in Chandler.
1. Chandler Supports One-of-a-Kind Business Incubation 
Chandler supports early-stage companies through its City-funded business incubator, Chandler Innovations. Designed to create a culture of startup support throughout Chandler, the incubator provides entrepreneurs with free programming and services to help build scalable, profitable businesses. Resources include one-on-one business coaching, hands-on workshops and specialized support from a broad network of mentors.
 
2. Coworking Culture Offers Resources to Small Businesses
Entrepreneurs in Chandler have access to state-of-the-art coworking facilities that provide members with access to dynamic workspaces, cutting-edge amenities and valuable networking opportunities.

For example, the ASU Chandler Innovation Center (ACIC) is an innovative partnership between the City of Chandler and Arizona State University. Inside the ACIC is the Chandler makerspace, an ASU-run community resource lab that houses equipment such as 3D printers, laser cutters, vinyl cutters, sewing machines, a woodshop, a panel saw and more. The facility also houses the Chandler Innovations business incubator, which features an open workspace available to local entrepreneurs.

Additional opportunities for coworking in Chandler include:
Workuity

– Workuity offers sophisticated workspaces that combine the community and connectivity of a coworking facility with the flexibility entrepreneurs need to grow their businesses.
 

Gangplank

– Gangplank creative workspaces offer a true start-up environment for entrepreneurs looking for a culture of collaboration rather than competition.
 

The Forum

– The Forum is a community built from collaboration and one that values all types of workstyles. With a variety of rooms and spaced offered, this coworking space allows entrepreneurs, startups, nonprofits and remote workers the ability to grow their business and entertain in one place.
 

Palette Collective

– Palette Collective is an innovative studio coworking concept offering customizable spaces for entrepreneurs in the hair, beauty, food, beverage and retail industries.
 
3. Startups Are Thriving Here
A wide range of businesses have their roots in Chandler, many of which have taken advantage of the City's resources for startups and entrepreneurs to help them get off the ground. Below are just a few companies that began their journeys in Chandler:
4. Entrepreneurs Have Opportunities for Regional Access and Exposure
Businesses located in Chandler are encouraged to pursue connections and partnerships within the City and beyond. Resources available to Chandler businesses include but are not limited to:
5. Events to Help Propel Businesses to the Next Level
The City of Chandler and its partners host a variety of annual and one-time events focused on entrepreneurship and accelerating small business growth. Just a few upcoming events include:
Global Entrepreneurship Week: Nov. 18-22, 2019

Phoenix East Valley Startup Week: Feb. 10-14, 2020

Small Business Workshop Series: March 2020

The Startup Connection: Sept. 2020
For more information on upcoming events, visit Economic Development News & Events.
Connect With Our Team
The City's Economic Development Division promotes Chandler as a preferred business location and tourism destination, but the proof is in the numbers. Whether you're launching a business, expanding or considering location options, the team can provide the help you need. Contact the staff directly at 480-782-3030.