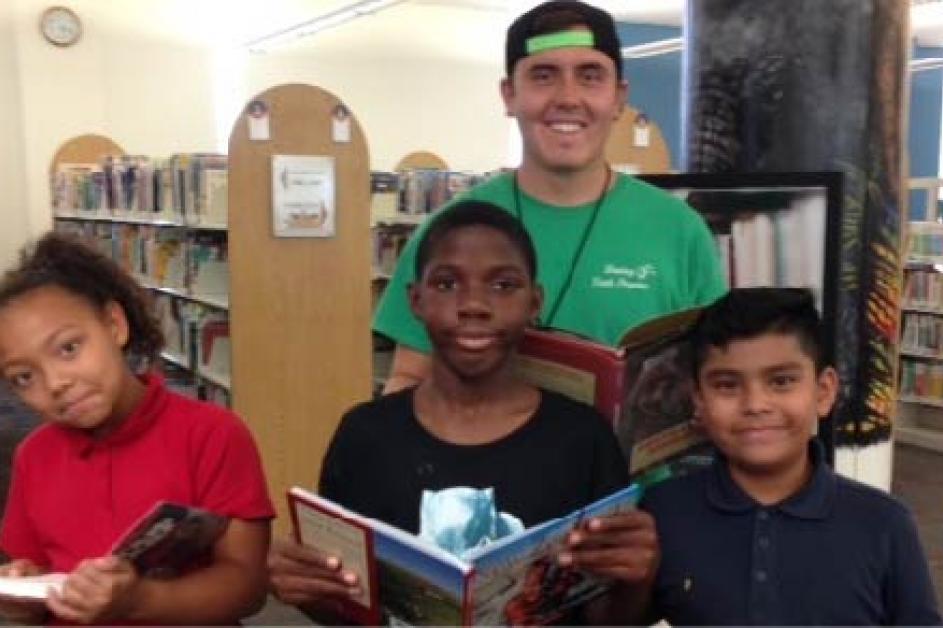 Chandler is one of more than 30 cities in the United States designated as a Book Rich Environment for its proven commitment to making books accessible to children and families living in public housing.
The designation comes from a partnership between the National Book Foundation and the U.S. Department of Housing and Urban Development and other government agencies. Cities who sign on to be a part of the Book Rich Environments must demonstrate a committed effort to connect people living in public housing with books and resources to encourage a culture of reading at home and beyond. 
As part of the designation, Chandler annually receives thousands of free books to distribute among students and families living in one of four of Chandler's public housing complexes. In addition to the books, the designation also encourages cities to develop creative programs to teach and promote reading.
One of these successful programs in Chandler is a unique tutoring system for first graders living in public housing who aren't reading at grade level. The program is called ASPIRE Read to Succeed.
According to Deborah Burkett, a recreation coordinator with the City's public housing youth, studies have shown students who aren't reading at grade level after first grade are less likely to graduate high school and go onto college.
"The goal of ASPIRE Read to Succeed is to get these kids reading at grade level so they have a better chance of getting out of their economic conditions down the road," Burkett said.
Students between the ages of 5 and 7 who test below grade level in reading are able to participate in the program, which blends the use of technology with physical books to help build a literacy skill set for the 21st century.
In 2017, Chandler received 40 free tablets from T-Mobile for being a part of the Book Rich Environment partnership. Burkett said, rather than simply give away the tablets as freebies, Chandler's Housing and Redevelopment staff developed the ASPIRE Read to Succeed program and made the technology an integral part of the process.
Throughout their year in ASPIRE Read to Succeed, students work on a tablet to play educational games and practice literacy skills they'll use in school. At the end of the year, students who graduate can keep their tablet as an incentive to keep learning once the program ends.
Burkett said the tablets are a great resource and motivation for students to continue through to the ASPIRE Read to Succeed graduation.
Since its start two years ago, 18 students have graduated from the program. From here, Burkett said the staff hopes to grow the program and continue to find new ways to inspire families to read and enjoy books together.
From Book Desert to Literary Oasis 
The Chandler Public Housing Youth Program and the Chandler Public Library offers a variety of reading and literacy activities to children and teens who live in one of four public housing sites in Chandler. Activities include an on-site after-school program offering homework assistance, arts and crafts, recreation activities, a computer lab, free book distributions and more. Learn more about these programs and how to get involved.