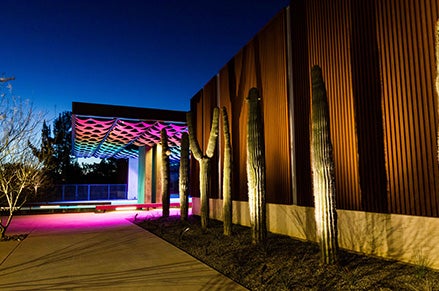 The Chandler Museum is a 10,000-square-foot building located just north of the historic 3,300-square-foot McCullough-Price House with nearly 13,000 square feet of outdoor spaces, including a 10,000 square-foot courtyard that is the heart of the project, tying the two buildings together and providing a shaded gathering place for visitors and outdoor programming.
Renovations to the historic house resulted in a formal state-of-the-art research and archive site for the Museum while maintaining its status on the National Register of Historic Places. Together, the project establishes a City of Chandler iconic cultural facility on the west side of Chandler that takes advantage of easy access to the 101 and 202 freeways, proximity to vast shopping and dining options, and a growing area that is being developed for residents and tourism.
The vision of the Museum is to be the community's principal resource to explore its people's history, culture, and their place in the rapidly changing world of today.
The Museum is an interdisciplinary learning environment where the community comes together to share its stories, preserve its cultural heritage and experience Chandler as a people and place.
The Chandler Museum is a division of the City of Chandler's Cultural Development Department.  It is governed by the Chandler Museum Foundation.
| Part-time Staff |   |   |   |
| --- | --- | --- | --- |
| Janet Castorena | Kristine Clark | Celena Gammon | Gracie Garcia |
| Becky Howardell | Gary Looney | Mary Jean Maloney | Rochelle Mattingly |
| Lauren McCaulou | Julia McKee-Ostos | Shonda Story | Susan Wilson |