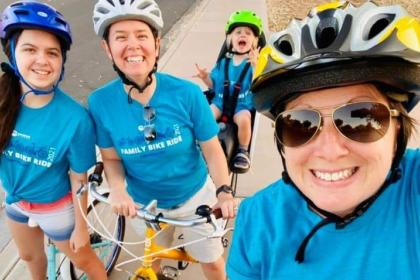 7:30 a.m.  | Kick Off
Enjoy vendors and activities that will include equipment safety checks and bike rodeo. 
8:30 a.m. | Guided 7.8 Mile Ride
Promptly at 8:30 a.m. the guided 7.8 mile bike ride will begin. The ride starts at the Chandler Park and Ride then travels the Paseo Canal to Tibshraeny Park and back. Upon return, participants can enjoy a free Kona Ice to celebrate.
Virtual Ride
If you're not able to attend the community event or would rather ride in the comfort of your own neighborhood or park, we are also offering a virtual bike event March 27 - April 2. Grab your family and friends and ride anytime during the weeklong event. For those who have pre-registered by March 15, 2023, t-shirts can be picked up at the Downtown Library during operational hours starting on Monday, March 27, 2023.
Registration
All participants are asked to register online for both the community and virtual events.
Registration Closed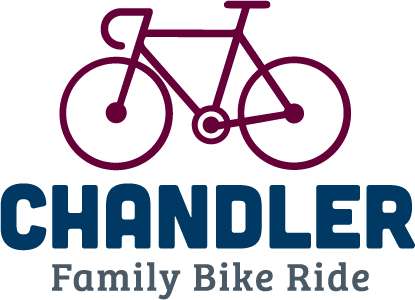 April 1, 2023
8:30 a.m.
FREE
Contact Us
Bob's Free Bikes
Help us collect unwanted bicycles to be repaired and recycled back to children in the community. Whether you are participating in the Family Bike Ride or not, help us create magic in the life of a child by dropping off your donated bikes at the Chandler Park and Ride on Saturday, April 1, 2023 from 7:30-10:30 a.m.
Chain Reaction: Lessons from a BMX Lifer
Wednesday, March 29 | 6 - 7 p.m.
Chandler Public Library | 22 S. Delaware St.
The sport of BMX has been racing ahead and going strong for more than 50 years. Chandler's Rachael Lea Blackwell is one of the living legends of this dynamic sport. From racing to coaching and track operating, she has been involved at all levels.
Rachael will present the life lessons BMX has provided her and how your family can get started riding. She will cover BMX fundamentals, terminology, equipment and safety. Lastly, Rachael will reveal a little lore behind the Chandler BMX track, which has been instrumental in the history of Chandler and the BMX world. 
All ages welcome. There will be door prizes! 
Chandler Family Bike Ride
Map
Getting Around Chandler
Bike Maps
Getting around Chandler on your bike is easier than ever with regional bike paths published by the Maricopa Association of Governments.
ADOT Bike Maps Chandler Bike Map
Chandler Library Biking
Resource List
#BikeChandler
Follow us on Social Media for bike-related safety tips, bike paths, lanes and trails and to see how others are celebrating the Chandler Family Bike Ride. Share your bike ride images and videos on social media, using the hashtag, #BikeChandler | Facebook | Instagram | Twitter | Nextdoor