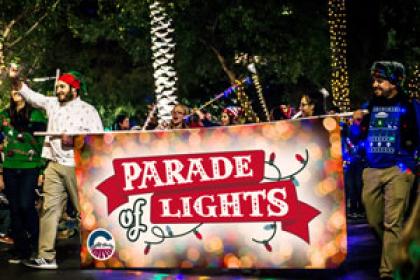 Every December, brings local businesses, community organizations, families and floats together for one glowing evening in celebration of the holidays. Glowing pageantry of lights, Parade of Lights features hundreds of thousands of lights that bring joy and cheer to spectators of all ages. 
Parade of Lights starts at 6:45 p.m.
Tree Lighting takes place at 8 p.m.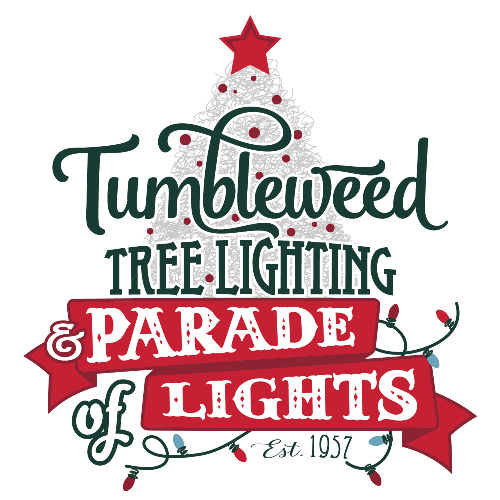 Dec. 3, 2022
6:45 - 8 p.m.
Contact Us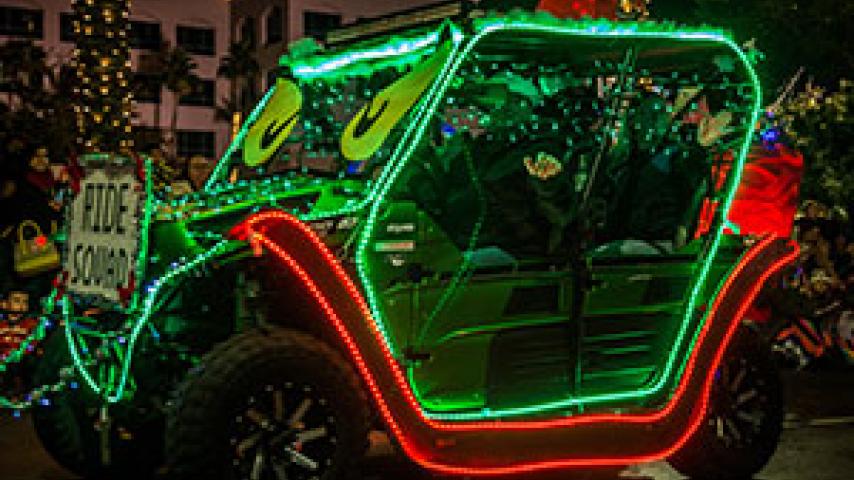 2021 Parade of Lights Winners
Congratulations to our 2021 entry winners. Judged by the Mayor's Youth Commission, each float is reviewed the night of the parade. Scores are based on criteria such as creative design, craftsmanship, artistic merit, thematic interpretation, and dramatic impact. 
Interested in participating in the 2022 Parade of Lights? Applications are now available for parade entries - floats, walking groups, dancing groups, vehicles, marching bands, and more!
Important Notice
The 2022 Parade of Lights will once again have a registration fee. The registration fee will be $25 per entry. Due to the popularity of the Parade of Lights and the limited space, a registration fee is charged to all entries. The registration fee will be applied to the prize money of the first-place winners of the five judging categories. Registration fees will not be collected until entry has been officially confirmed for participation in the parade.
Entry Sign-Up Process
Review the Parade Entry Information Sheet for all dates, rules, and regulations
Complete the Parade Entry Application or the Parade Entry Online Application
Wait for the entry confirmation to be sent via email to Parade Entry contact person. - all further details, including payment, will be provided to Parade Entry contact person by email or phone
A Wait List will be available for entries should space fill up
The total number of entries allowed in this year's parade is dependent upon the sizes of the accepted entries.
All entries have the option of being judged before the parade begins. Please review the categories carefully and choose only one that best suits your entry. Entries opting to be judged will be considered for Judge's Choice!
Best Lit Musical or Dance Group
Best Lit Community Group
Best Lit Business Entry
Biggest and Brightest
Criteria for Judging
All categories, except Judge's Choice, will be judged on the following:
Use of Lights
Advanced use of lights to music or choreographed program and/or other visuals designs
Number of lights used
Proportional use of lights throughout the entry
Use of lights in an unusual or innovated fashion
Unusual style and/or color of lights used
Originality
Innovative and creative techniques used to make the entry distinctive
Resourcefulness and use of materials to enhance visual understanding or theme of the entry
Overall Presentation
The entry that exhibits the highest marks in Use of Lights & Originality to create a cohesive, memorable and visually appealing entry from all aspects
Creates a "Wow Factor" and is engaging for the audience
The parade 3/4 quarter-mile route begins at Frye Rd. and heads north to Erie St. along Arizona Ave.
Guests attending the event are strongly encouraged to carpool and arrive early to find parking. There are several locations to park throughout the Downtown area. Please visit the parade overview map to see these exact locations. Suggested routes to access each parking site is also listed.
Parking Locations
P1 - Overstreet Parking Garage
Enter Structure from Chandler Blvd. and California St. to Buffalo St.
P2 – Street Parking
Parking Lot accessible from Boston St. and San Marcos Pl. via Dakota St.
***San Marcos Pl. (between Buffalo St. and Commonwealth Ave.) will be closed from 2 - 10 p.m. 
P3 – Oregon St. Parking Garage
Parking Garage accessible from either California St., Oregon St., or Chicago St.
P6 - City Hall Parking Garage
Enter Structure from Frye Rd. and Washington St.
P7 – San Tan Regional Court Surface Parking Lot
Enter lot from Dakota St. and Chicago St.
P8 – San Tan Regional Court Surface Parking Lot
Enter lot from Frye Rd.
P9 – City Surface Parking Lot
Enter lot from Dakota St. and Chicago St.
P10 – City Police Department Surface Parking Lot
Enter lot from Dakota St. and Chicago St.
P11 - Alexander Parking Structure
Enter Structure from Chandler Blvd. to Delaware St. and Boston St.
P12 - Downtown Library Parking Lots
Enter Lot from Chandler Blvd. to Delaware St. and Boston St.
P13 - Jonathon Parking Structure
Enter Structure from Chandler Blvd. and either Washington St. or Colorado St.
P14 - Site 7
Enter Lot from East Bound Chandler Blvd. and Washington St., make right into the lot
Supplemental Parking Locations
Additional parking may be available in these locations. Please follow all traffic laws when crossing all streets to get to the event area.
Folley Park - Map
*Enter from McQueen Rd. and Frye Rd. or Pecos Rd. and Hamilton St.
Please Be Aware of the Following Closures
2-8:30 p.m. Arizona Ave. closed between Frye Road and Pecos Road
6:30-8:30 p.m. Frye Road restricted from Washington St. to California St.
2:30-10 p.m. Arizona Ave. closed between Chandler Blvd. and Frye Road 6:30-9 p.m. Chandler Blvd. restricted from Delaware St. to California St.
6-9:30 p.m. Arizona Ave. closed between Galveston St. and Chandler Blvd.
Are you interested in volunteering? We have a great opportunity for anyone who needs community service hours or just wants to help out a great event. Volunteer opportunities range from setting up, parade banner holders, activity booths, or helping guests with event information. Please contact Special Events for current volunteer opportunities.
The Parade of Lights is continually seeking interested individuals, organizations, and companies who want to sponsor our great festival with either in-kind services or monetary donations. The benefits of being a sponsor range from on-stage logo recognition and announcements during the festival to name and/or logo recognition on flyers, posters, postcards, websites, press releases, festival programs, and much more. Benefits vary based on sponsorship levels. For more information on becoming a sponsor, please contact Special Events for current partnership opportunities.
ADA Accessibility
The City of Chandler welcomes participation from all of its citizens. To request an accommodation due to a disability please allow five (5) days prior to the scheduled event. Contact the City's Special Event Coordinator at 480-782-2665 (or 711 via AZ Relay Service) or special.events@chandleraz.gov.