Every spring, the Mayor's Committee for the Aging brings together an extensive collection of exhibitors who provide products, resources and valuable services to Chandler's 50+ community.
Co-Presented by
Mayor 's Committee for the Aging 
Wednesday, March 11
9 a.m. - Noon
Chandler Community Center
Health, Nutrition and Active Living
If you are looking for information about healthcare, municipal services, recreation, technology, or entertainment, our annual Senior Expo provides lasting connections to help enhance your quality of life. Join us at the Chandler Community Center for a fun-filled morning of information gathering, giveaways, and free health screenings. Screenings include blood pressure checks, cholesterol and glucose tests and are available on a first-come, first-serve basis.
Vendor Booth Opportunities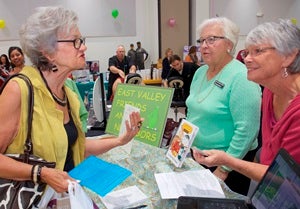 2020 Exhibitor Applications are now being accepted. Space is limited. To assure representation of your organization, please complete the Senior Expo Participation Form and submit payment. Registration will close on Friday, Feb. 28 or once the Expo has reached showcase capacity. Payments may be made over the phone or in-person at the Senior Center.
Become A Sponsor
For every program and service we're able to offer, amid every achievement and success, there are committed donors, business and community leaders, volunteers and advocates working behind the scenes to make it happen. They have brought us to where we are today, and will help to carry us forward. Senior Expo offers numerous ways for you to give, get involved and become an invaluable friend and partner of Chandler's 50+ community. Every dollar donated, every hour invested, directly impacts the lives of our community. Review our sponsorship packet for ways to make lasting connections with our active adults. For questions, please contact our Recreation Coordinator.