June 17, 2022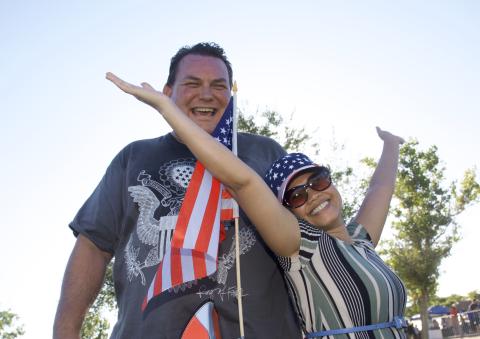 CHANDLER, Ariz. – All are invited to join the fun at Chandler's All-American Bash on July 4. Now in a new location, Downtown Chandler, this festive event will include live music, yard games, food vendors and more fun.
Chandler's All-American Bash will take place on Monday, July 4 from 7-9:30 p.m. at the Dr. A.J. Chandler Park Stage Plaza, 178 E. Commonwealth Ave. Admission is free.
Local favorite rhythm and blues band, Cold Shott & the Hurricane Horns, will play two 60-minute sets. This year, in lieu of fireworks, there will be a five-minute pyrotechnic show as part of the concert. The show will begin at 8:20 p.m. at the Dr. A.J. Chandler Park Stage Plaza.
The fun will continue with yard games such as Connect 4, checkers and more. Vendors will be on site offering water, lemonade, hot dogs and cool treats. Patrons are also encouraged to come early and have dinner at one of the many restaurants and taverns in Downtown Chandler.
Guests are allowed to bring food, non-alcoholic drinks, coolers, umbrellas, canopies, blankets and lawn chairs. See the website for prohibited items, including alcohol and fireworks.
Parking is free and available through Downtown Chandler. Disabled parking is available in all paved lots and parking garages.
For more information, visit All-American Bash. 
Media contact:
Toni Smith
City of Chandler, Communications Manager
480-782-2701