June 24, 2019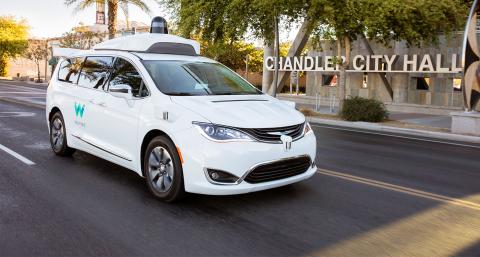 CHANDLER, Ariz. – The City of Chandler and Waymo have launched an autonomous vehicle ride-hailing program for select City employees. The program will evaluate employee productivity while commuting to and from off-site work meetings and potential fleet services cost savings. The partnership kicks off this month and will run for at least one year.
"We've worked closely with Waymo for the past several years and it's a natural progression to utilize their technology," said Mayor Kevin Hartke.
 "Our City is an innovation and technology hub; in fact, Chandler has been dubbed the Self-Driving Capital of the World in media reports. We're proud to have another innovative first with this partnership to explore increased productivity and cost savings related to our motor pool fleet."
For now, several dozen employees will participate in the program. When these employees have an off-site work meeting, they can use the Waymo app to schedule a ride within the Waymo service area. Current improvements on Arizona Avenue will create an autonomous vehicle designated pick-up and drop-off spot at Chandler City Hall. All work-related rides will be charged to employees' purchasing card. After every trip, employees must complete a rider survey and submit receipts via email.   
To learn more about how Chandler became the autonomous vehicle capital of the world, visit the City blog.

Media contacts:
Stephanie Romero
City of Chandler
480-782-2231
Alexis Georgeson
Waymo