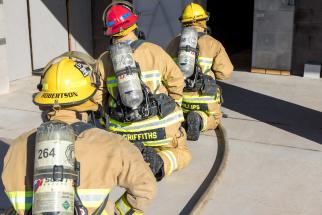 Chandler and Scottsdale are working together to conduct an open registration and written exam for the 2020 Firefighter recruitment process. Please visit this webpage and our social media sites for updates about the recruitment and testing process.  If you have further questions or for more information on individual city hiring requirements and the 2020 recruitment process, visit Chandler Fire, Scottsdale Fire, or call 480-382-7776.
When recruitment opens on Feb. 10, a link to the recruitment registration site will be provided on this page.
All dates & times subject to change.
Registration will be available online only and will open on Monday, Feb. 10 at 9 a.m. and will close on Monday, Feb 24 at 5 p.m.
A maximum of 1,500 applicants will be registered for the written exam.
Specific times and locations will be provided to qualified applicants who complete the registration process.  We plan to offer a morning, afternoon and evening testing session to accommodate our candidates.
Written Exam
In-Person
March 24 and March 25
Candidates will be given test times and locations following registration. Candidates must be at least 18 years of age at the time of the written test.
Exam Preparation
CEB/PST Candidate
Orientation Guide
Available for purchase
You must read all instructions and agree to the disclaimer before downloading the guide. Do not attempt to order any other products as the CEB/PST Guide is for the 2020 recruitment.