Be green, think blue. Use your blue recycling container ONLY for items listed on the City's Recycling List.
Place clean and dry recyclables lose in the blue container with the recycling container lid closed. If you're uncertain about an item being acceptable in the curbside recycling program, call Solid Waste Services at 480-782-3510. Always better to check and call than not at all.
Items listed below are the most common recyclable items used in households.
Newspapers and inserts
Magazines, catalogs, phone books
White or colored paper
Paper sacks, magazines
Junk mail and envelopes
Bagged shredded paper

Shredded paper must be placed in a clear or white bag and tied securely.
This is the ONLY time plastic bags are to be placed in your blue recycling container.
Plastic bags are NOT ACCEPTABLE in Chandler's recycling program at any other time.
This exception is made for shredded paper only to prevent litter and assist in the sorting process.

No gift wrap, gift bags, or tissue paper
No paper plates, napkins, paper towels, or facial tissue
No pet food bags
Must be empty and flat
Prepared food boxes
Shoe boxes
Moving/shipping boxes
Egg cartons
Paper towel/toilet paper cardboard tubes
Pizza boxes (if not soiled w/grease or food)
No milk or juice carton
Recycle symbol #1-#6
Lids are accepted, but lids must be attached to the original container.
Beverage bottles and jugs
Shampoo and soap bottles
Liquid laundry detergent jugs
Yogurt, margarine, sour cream tubs
Frozen food trays
No plastic bags or shrink wrap, even if marked as recyclable* (Recycle at local grocers)
No Styrofoam materials, even if marked as recyclable* (Contact UPS & Mailing stores to drop off packing peanuts & Earth Friendly Block to drop off styrofoam packaging that protects appliances and electronics)
Aluminum cans, clean foil and pie pans
Steel/tin cans (Vegetable, fruit and soup cans)
Empty aerosol cans (Shaving cream, deodorant, cooking spray)
No cans with paint, pesticides or other hazardous materials
No hangers or other metal items
Beverage bottles (all colors)
Food jars (labels are ok)
No mirrors, windows, drinking glasses, plates or any other type of glass
In-house recycling containers
In-house containers are available for residents to transfer recycling items accepted in the City's recycling program from inside their home to their blue recycling curbside container. In-house containers are free but subject to availability.  

The 14-gallon in-house recycling tub (without handle) is also available.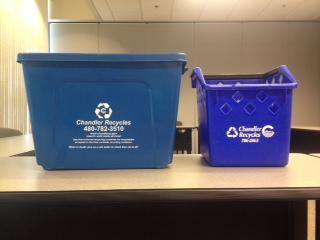 In-House Container Dimensions:

6-Gallon Recycling Basket (with handle)
6-gallon capacity
Measures 10.5" l x 9.5" w x 12.5" h

14-Gallon Recycling Tub (no handle)
14-gallon capacity
Measures 17.5" l x 14" w x 14" h

Call Solid Waste Customer Service at 480-782-3510 for details about how you can receive an in-house recycling container for your home.