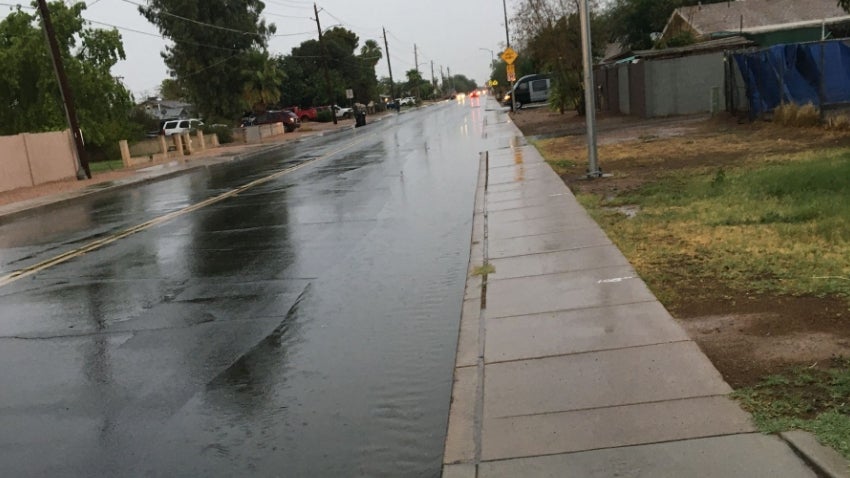 A storm drain, water and sewer improvement project is underway in the Detroit Basin/Gazelle Meadows Park area. This project is jointly funded by the City of Chandler and the Flood Control District of Maricopa County. Engineering design and modeling began in spring 2022.
Construction begins in early November with current construction information provided below. During construction, street excavation will be required to install large underground pipes.
Storm drain, water and sewer improvements may include:
A deeper basin at the Gazelle Meadows Park and other improvements, based on public input
New potable waterline along Erie Street
Sewer line rehabilitation along Exeter and Erie streets
Underground storm drain pipes and inlets near or along Erie, Nevada, Detroit and Hamilton streets
Construction Information (Oct. 24, 2023):
The City of Chandler has contracted with Achen-Gardner to construct storm drain, waterline, and sewer improvements in the area near Erie St and Hamilton St. The project includes streetscape, alleyway, paving and ADA improvements in Erie St, as well as park and associated infrastructure improvements.
Construction is scheduled to begin Nov. 6 in Erie St from Exeter to Hamilton St to trench and install storm drain pipe. Erie St will be reduced to one lane eastbound only (westbound traffic will not be permitted) from Nevada to Fresno St. Detour signage will be in place to direct travelers around the closure and No Parking signs may be placed to prevent parking near the work zone. Access to residences and businesses will be maintained; however, it may not be the most direct route. Residential services should not be disrupted; however, please contact us if you experience issues. Residents impacted by planned water outages will receive a door hanger in advance.
Storm drain work in Erie will be followed by water and sewer pipeline installation, and work in Hamilton St near Galveston Elementary is scheduled to take place during the school's winter break. Work will take place primarily during daytime hours, weekdays, with traffic control remaining in place 24/7 to protect the work zone. Project completion is expected in Fall 2024.
Thank you for your patience during this work
For questions or to be included in project e-updates, please contact us by email or contact our project hotline.
Project Hotline: 480-898-4060
Project Area and Details