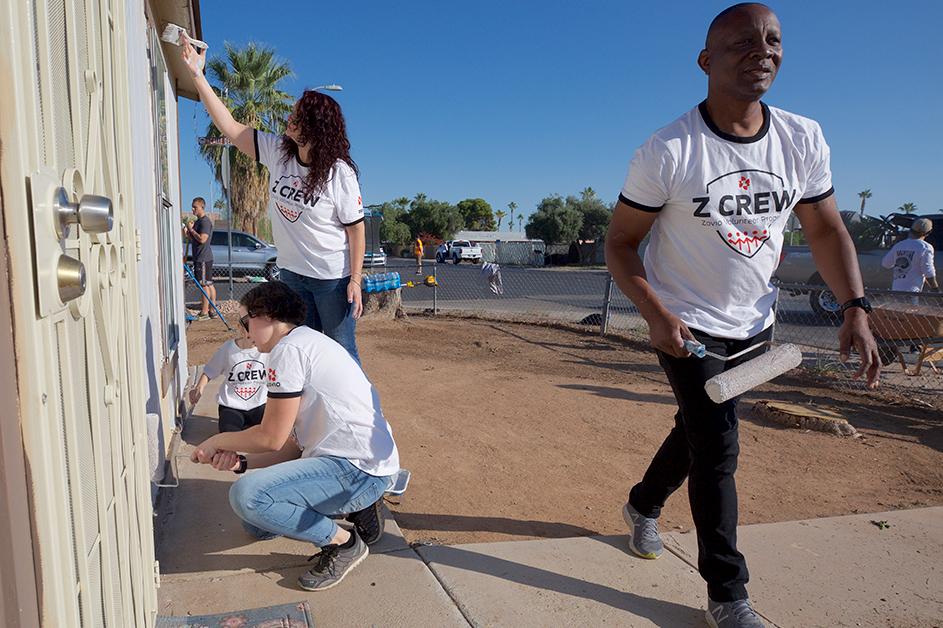 Many companies in Chandler have corporate social responsibility programs that support employees in making a difference within our community. 
This Volunteer Week, we are spotlighting a handful of companies that show their commitment to Chandler time and time again through volunteerism. 
Zovio
Despite the challenges posed by COVID-19, Zovio's "Z Crew" volunteered more than 5,100 hours in 2020. Through Zovio's Corporate Social Responsibility (CSR) program, employees receive 16 hours of paid time off per year to volunteer at nonprofit organizations in the community. 
Z Crew members have volunteered in countless ways throughout Chandler. In 2020, 45 Zovio employees participated in the City of Chandler's For Our City Day to clean up local neighborhoods in need and support the residents. Additional Zovio volunteering highlights include:
Sponsoring the Chandler Chamber of Commerce's #BusinessStrong COVID-19 relief program. Providing executive leadership and supplements to the Chandler Unified School District to support virtual learning for students as they transitioned to online learning.

Holding an annual United Way Workplace Campaign with Valley of the Sun United Way

Hosting a food drive in partnership with Kitchen on the Street to support their Need Bags of Hope program.

Donating laptops to the Greater Phoenix Chamber Foundation's Community Laptop Drive to support K-12 students who lacked technology at home to continue the school year virtually.
Zovio's Z Crew is this year's recipient of the Working Together Award from the City of Chandler, part of the City's Annual Volunteer Recognition Awards.
Intel
Chandler's leading employer is a major partner of the City's in a number of community volunteering projects. From supporting Chandler schools and their students to funding local arts programming to volunteering hundreds of hours to Chandler causes each year, Intel and its employees offer invaluable support. 
Intel's global corporate volunteer program—Intel Involved—matches volunteers with opportunities for community service. Intel employees have volunteered more than 10 million hours in local communities across the globe.
One way Intel supports causes in Chandler is through the annual Operation Back to School drive. The annual backpack and school supply donation and distribution drive provides thousands of Chandler students with the supplies they need for a successful school year. Intel is a regular supporter of the event, providing laptops, tablets and volunteers to support event registration. 
Statewide, Intel employees donate about 150,000 hours of time volunteering annually. 
Since 2015, Intel and the Intel Foundation have given more than $35 million to support Arizona schools and nonprofits.
State Forty Eight
The Chandler-based clothing and lifestyle brand is committed to social responsibility. In 2019, the State Forty Eight Foundation was born to foster volunteer efforts and support community programs throughout Arizona. 
The foundation focuses on forming impactful partnerships to aid in fundraising, youth mentorship and entrepreneurship in the community. 
According to the Foundation's Impact Report, in 2020 the State Forty Eight Foundation worked with 26 nonprofit partners, donated more than $43,000 to charities and donated over $3,000 through in-kind support. 
Northrop Grumman
As an organization, Northrop Grumman values volunteerism and empowering its employees to build partnerships that support local communities. The company's employee volunteerism and outreach initiatives focus on four key areas: K-12 STEM education, military and veterans, health and human services and the environment. 
In Chandler, Northrop Grumman employees are active supporters and volunteers at the annual Chandler Science Spectacular, a SciTech festival that supports youth education in STEM fields. In years past, Northrop Grumman displays have included popular experiments and rocket launches that are popular among attendees.
In addition, their team of volunteers and their family members partnered with Willmeng to complete several projects at a local elementary school, including replacing gravel throughout the campus, repainting benches in the courtyard, reorganizing and building shelving for the storage closet, replacing vinyl flooring in the cafeteria, and repainting parking lot lines.
Keap
Chandler company Keap showed up in full force during the pandemic to support small businesses struggling through hard times. 
In 2020, Keap launched its Keep Going Grant Contest. It received 968 applications and granted $500 to 200 small businesses, dispersing a total of $100,000. 
With the program receiving an overwhelming number of applications showcasing the many inspiring ways businesses were allocating funds and adapting to stay afloat, Keap launched a second round of its Keep Going Grant fund in July which provided grants of $1,000 to 100 additional small businesses in need.
Stantec
Stantec, a global company with a presence in Chandler, supports its employees' volunteer efforts through its Community Engagement Program. The program supports four main areas: education, environment, health and wellness, and the arts. 
According to its annual reports, in 2019 Stantec donated more than $3 million to organizations worldwide. The company donated $65,000 in scholarship donations to post-secondary institutions with a focus on supporting opportunities for diverse, inclusive education.
Each year, Stantec employees participate in Community Week, a week-long community service and volunteering event. In 2019, more than 5,300 Stantec employees volunteered for 395 charitable organizations all over the world. 
For Our City-Chandler Volunteer Partners
For Our City-Chandler is a group of nonprofits, faith-based organizations and businesses organized to best serve the community and its residents. The organization holds a number of volunteer-supported events each year, including Let's Pull Together program cleanups, the Pancakes and Pavers restoration event and Operation Back to School. 
The following companies with a presence in Chandler are just a few of For Our City-Chandler's valuable partners that have offered in-kind and monetary support to community organizations and events.
Old Castle

Waste Management

Bank of America

Home Depot

Amazon

Toyota Financial

Red Mountain Roofing 

Target

Ports America

Chandler-Gilbert Community College
Connect With Our Team
The City's Economic Development Division and Diversity Office are resources to connect businesses in Chandler with opportunities to volunteer in the community. For more information, contact the team at 480-782-3030 to explore new ways to get involved.