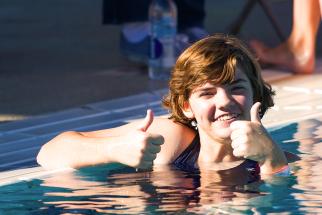 Special Use Groups refer to large groups, summer camps, and private organizations wishing to bring children without a guardian to a Chandler Aquatics facility. Advanced notice is required for these groups to visit. Groups must submit a Special Use Groups request two weeks prior to their anticipated arrival date.
This form is a request, and your group is not booked until you receive final confirmation from Chandler Aquatics. Please allow three business days from the date of the request for a response to your inquiry. Changes to your request must also be made two weeks prior to your confirmed visit date.
For more information or to submit a change, please contact the Special Use Group Program Coordinator at 480-782-2764.
Special Use Groups Inquiry Form
Special Use Groups may request a reservation for the following aquatics centers and pools:
Groups without prior approval will not be permitted to enter the facility.
Special Use Groups are not permitted to arrive during the facility's designated Free Swim Hours and $1 Family Swim.
Special Use Groups are charged the standard admission price.
$1 per child (ages 2-17)

$2.25 per adult
Groups may choose to pay onsite the day of arrival or to be billed monthly for usage from July 1 – August 1.
Acceptable forms of payment are credit cards and cash.
Chandler Aquatics requires the following adult-to-child ratios of all Special Use Groups.
1:6 for children aged 4-6

1:8 for children aged 7-17
The required ratios of chaperones to children must be met to be granted entrance into the facility.
All chaperones in the group must be in the water, assisting with supervision and enforcing the pool rules at all times.
Pool Manager and lifeguards have complete authority in the pool. Please remember lifeguards are on duty to provide a safe environment and respond and assist with aquatic emergencies. It is the parent or guardian's responsibility to watch their child at all times.
Children 7 and under must be accompanied by an adult or responsible teenager (13 or older). Non-swimmers or children in Person Flotation Devices (PFDs) must be within arms reach of a parent or guardian.
Children who are not potty-trained must wear swim diapers at all times at all Chandler aquatic facilities.
Flotation devices and water wings are prohibited unless U.S. Coast Guard approved.
Feet first entries only in water less than 5 feet. Diving head-first into water less than 5 feet may cause severe spinal cord injuries.
For the protection of all our guests, the use of cameras, cell phone cameras, video recording devices, and equipment with digital photography capability is prohibited in our bathroom/locker room areas. Video recording and photography of any kind within the pool area must be approved by the Pool Manager.
Food must be consumed in the concession areas. Glass containers and alcoholic beverages are prohibited.
Parities of any type are prohibited during public swim hours unless booked and paid for through the City's contract concessionaire or a private rental.
All aquatic facilities are smoke-free (smoking is strictly prohibited in aquatic facilities located on school sites, even outside the aquatic center and parking lots).
We ask all guests to shower and use the bathroom before entering and enjoying the pool.
Guests who are sick or ill (diarrhea, incontinent, vomiting, etc.) are asked to visit the facility after they have recovered from their illness.
Guests with open wounds, sores, inflamed eyes; colds, nasal or ear discharge, boils, or other acute or obvious body infections or cuts shall be excluded from entering the facility.
Daycare centers, summer camps, and other group programs must provide a 1 to 8 teacher/counselor-to-child ratio.
Please keep gate(s) closed at all times – do not prop open.
Please observe all safety regulations.
Guests are allowed to wear t-shirts to protect their skin from the Arizona sun. Please wear a clean shirt.
Riders must be 42" in height to ride the main water slides. Only children under 42" are allowed to ride toddler slides. Drop slide riders must be 48" in height.
Any guest entering the pool, swimming or not, is required to pay the daily admission fee.
Animals are not permitted in the facility, except seeing-eye dogs.
All guests wishing to swim in the pool must be in a swimsuit. Cut-offs or leotards are not permitted in the pool.
There are additional rules and regulations posted at each aquatic center. Please review these regulations when you visit any of our aquatic facilities.
The City of Chandler reserves the right to enforce other rules and regulations that are not posted that create a health and safety risk to our guests.
On a restricted basis, the City of Chandler allows guests to bring their own food and beverages into our facilities. As our guest, you have three options for consuming food and beverage at our aquatic facilities. You may bring your own food and beverages with the restrictions listed at the bottom. You may utilize the on-site concessionaire if available. Or you may use the vending machines, which are at select sites only.
This policy covers public swim hours only; it does not apply to private rentals.
One hard or soft-sided cooler per guest not to exceed 7" x 7" x 9" (six pack size) in dimensions is allowed.
Briefcases, ice packs, and cooler inserts are not permitted. · Food items must either fit within the cooler or be brought in an 11" x 8" "brown bag" or sack lunch bag. Bags exceeding the 11" x 8" dimensions are prohibited, with no exceptions. Food in "brown bags" must be single serving and/or snack-type food.
Beverages not to exceed 32 ounces include:

Non-flavored/non-carbonated water in sealed plastic bottles is preferred. However, other liquids (iced tea, coffee, soda) will be allowed.
Sealed, single-serving juice boxes or pouches.
Formula/baby food.
Items necessary for medical purposes.

Pizzas or pizza in boxes, fried chicken in boxes, party subs, and other food items (such as cupcakes, cakes, etc.) that cannot be placed in a "brown bag" or give the appearance of party-type food are prohibited.
No alcohol or glass containers are allowed.