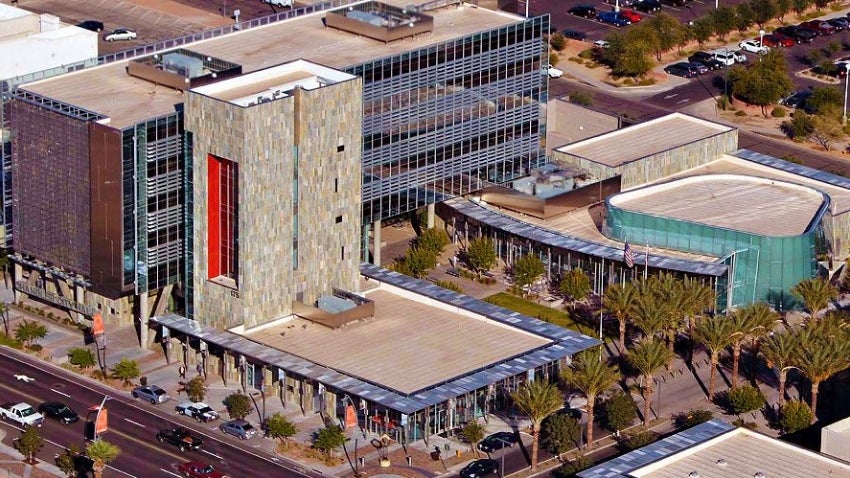 Chandler City Hall is in Downtown Chandler on the east side of Arizona Avenue and approximately 1/2-mile south of Chandler Boulevard. The municipal complex offers convenient access to the most used City services and plentiful free parking. The complex consists of a six-story City Hall office tower and several adjacent buildings, including the City Council Chambers, Vision Gallery, Neighborhood Resources offices and a public parking garage. The complex includes facilities on the north and south sides of Chicago Street. 
City Hall Complex Departments & Services
One of the public art pieces in the new City Hall complex also serves an important function, acting as a natural light filter for the office windows. The artwork "Turbulent Shade" created by artist Ned Kahn incorporates approximately 1,000 perforated stainless steel panels (6-by-21-inch) that are suspended on rods across the entire western facade of the building. The artwork reflects light, moves with natural wind currents and is lit from above and below with low energy use LED lighting that adds a warm glow to the artwork, while providing colorful illumination to the building. The eastern façade also includes the same art over a smaller area. The artwork was purchased through the City's one percent for art ordinance, which allocates 1% of project construction dollars of new buildings and parks to the Municipal Arts Fund.
Key Project Dates:
Chandler City Hall Site Selection Study Approved: May 2006
Design Contract Approved: Dec. 13, 2007
Construction Contract Approved: April 6, 2009
Groundbreaking Ceremony: May 8, 2009
Public Opening: Oct. 25, 2010
Dedication Ceremony: Nov. 15, 2010
Upon completion of the project, Chandler City Hall receive GOLD Certification within the Leadership in Energy and Environmental Design (LEED) Green Building Rating System.
Key Budget Figures:
Original Project Budget: $80 million (see below)
Original Construction Estimate: $51 million
Guaranteed Maximum Price Construction Bid: $47 million (Sundt Const.)
Additional Savings Realized During the Project: $6 million
Final Project Cost Estimate: $70 million
Project budget included: land acquisition, demolition, remediation, and business relocations; plan review, permit and inspection fees; professional service fees (architect fees, construction management fees); furniture, furnishings and equipment (FFE); Information Technology services (broadband, phone and video equipment); and some contingency fund.
Top Ten Green Projects for 2012
American Institute of Architects (AIA) Committee on the Environment (COTE)
The COTE Top Ten Green Projects program celebrates structures that use a thoroughly integrated approach to architecture, natural systems, and technology to provide architectural solutions that protect and enhance the environment. The projects make a positive contribution to their communities, improve comfort for building occupants, and reduce negative environmental effects through strategies such as reuse of existing structures, connection to transit systems, low-impact and regenerative site development, energy and water conservation, use of sustainable construction materials, and designs that improve indoor air quality.
 
American Crown Community 2011
American City and County Magazine
The award is presented annually in recognition of outstanding leadership in local government. The magazine recognized Chandler for the City Hall Complex.
 
Best of the Best Project Award - Best Government/Public Building
Engineering News-Record (ENR) Magazine, National
This national competition recognizes design and construction excellence based on regional winners of ENR's seven regional publications' Best Projects 2011 Awards (see below).
 
Project of the Year
ENR Southwest Magazine, Regional
The best overall project among 130 construction projects in Arizona, Nevada, and New Mexico according to Engineering News-Record, Southwest Region
 
Best Government/Public Building
ENR Southwest Magazine, Regional
"Suburban City Hall Has an Urban Heart," according to the magazine.
 
Award of Excellence Finalist for 2011
Urban Land Institute, North and South America Region
Presented to projects that demonstrate creativity and best practices in land use and property development.
 
Crescordia - Environmental Excellence Award - Outstanding Civic Building/Structure
Valley Forward Association, September 2011
Arizona's oldest and most prestigious competition focusing exclusively on environmental initiatives.
 
Paul Waterbury Award for Outdoor Lighting Design (International)
Illuminating Engineering Society (IES) Awards, 2011
Special Citation for Creative Lighting of an Art Piece (Turbulent Shade) and published in LD+A, Magazine of the Illuminating Engineering Society of North America, August 2011
 
Awards of Merit (4)
Illuminating Engineering Society (IES) Awards, 2011
1. Outdoor Lighting - Building Façade and Courtyard
2. Outdoor Lighting - Art Scrim
3. Interior Lighting - Council Chambers
4. Energy and Environmental Design - Daylighting and Energy Efficient Design
 
Honor Award
American Institute of Architects (AIA), Western Mountain Region
 
Construction Excellence Award - Silver - Interior Finishes - Council Chambers
Ceilings & Interior Systems Construction Association (CISCA), West Region, 2010
Presented for the acoustic ceiling in the Council Chambers, and published in Acoustic Interior Construction Magazine, spring 2011. Video
 
P.R.I.D.E. Award
International Interior Design Association (IIDA), Regional
Design Excellence for a Public Facility
 
Excellence in Masonry Architectural Award
Arizona Masonry Guild
 
Exposing the Best in Concrete
American Concrete Institute, Arizona Chapter, 2011
Presented in recognition of excellence in structural and architectural concrete, including excellence in pre-cast, cast-in-place, and masonry concrete construction, as well as unusual use of concrete and concrete producing materials.
 
Best Office Project
RED (Real Estate and Development) Awards 2010
Presented by AZRE: Arizona Commercial Real Estate Magazine. The awards recognize the biggest, best and most notable commercial real estate projects in the Valley for 2010, and the construction teams involved.
 
Project of the Year
Associated Minority Contractors of America (AMCA), Arizona Chapter
Presented in 2010 to an Arizona project that created opportunities to small minority contractors, vendors, and suppliers.