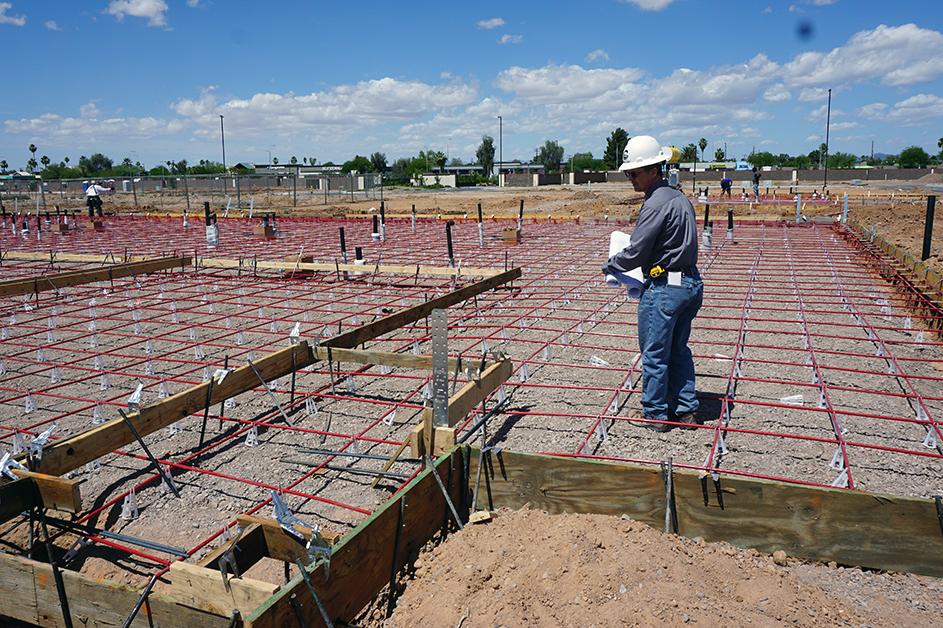 Building Safety Month is an international campaign that takes place every year in May to raise awareness about building safety and building safety personnel. The month raises awareness for the importance of updating building codes and helps individuals and businesses understand what goes into ensuring their everyday structures are safe. 
Chandler's Building Safety Division has a long history of participating in Building Safety Month, which has traditionally included in-person outreach events and community partnerships. Due to COVID-19, most of those events have been postponed or cancelled, and the way the team works has shifted to protect employees and the individuals they visit. 
Here are a few of the ways the team has adapted to stay safe during this unprecedented time.
COVID-19 Safety Precautions  
The City's Building Inspection staff traditionally make visits to buildings and construction sites throughout the City to ensure sites are up to code. Temporarily, the team has taken new steps to alter the way inspections work to ensure the utmost safety and caution. 
The entire City has temporarily been working a four-day workweek, with many teams working staggered hours to ensure minimal contact between employees when unnecessary. Preventing contact is an essential step staff has taken to reduce the possible spread of germs. 
The Building Inspection team is additionally working a modified schedule to allow staff to work remotely. Rather than having employees come into the office before the start of their inspections each morning, staff is temporarily reporting to work using laptops and visiting job sites directly. 
New changes to the inspection procedures now allow some homeowners and contractors to submit photos or videos of inspection sites in cases when the homeowner, contractor or inspector feel uncomfortable entering a premises to conduct the inspection. 
All inspectors have been issued gloves, masks, disinfectant products and hand sanitizer to use before, during and after all on-site inspections. This is for personal protection as well as to comply with requirements on sites that require gloves or masks to enter. 
Looking to the Future
Unfortunately, the current status of COVID-19 in our community has made staff have to adjust its plans to participate in events for Building Safety Month, but staff is still excited to share their stories with you and celebrate remotely.
A few of the project highlights the Division will be celebrating as the month goes on include the implementation of digital plan review and online inspection scheduling with its Civil Engineering Inspection staff, the filling of much-needed vacant positions and promotions for talented members of the team, the spearheading of a new texting service to schedule inspections as well as many more accomplishments they are proud to share during the month of May. 
Although the pandemic was an unexpected challenge for this year's Building Safety Month plans, staff continues its commitment to keeping the community safe and are excited to come back stronger for Building Safety Month 2021.