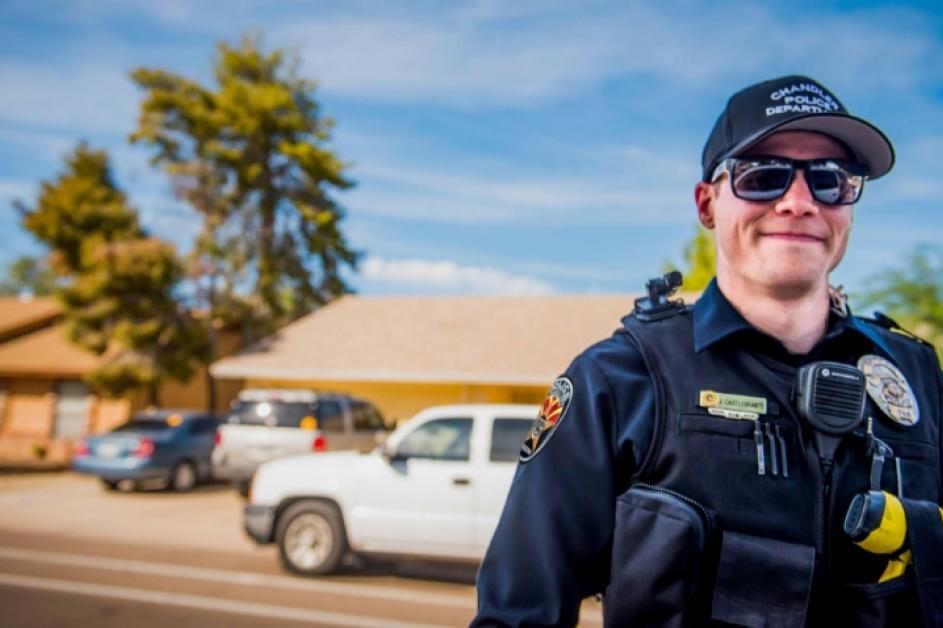 Chandler is experiencing the lowest recorded crime rate in the city's history. Chandler experienced significant declines in the number of violent crimes (-12%) and property crimes (-25%) in the first six months of 2023, making the 12-month period through June 2023 the lowest recorded crime rate on record.
This incredible achievement reflects the tremendous support of police in the community, the dedication of our police department and the effectiveness of a crime-fighting strategy that has produced a steady decline in serious crime during the past decade.
"Our crime-fighting strategy is working, but we must double down on our efforts to leverage technology to continue the downward trajectory," said Police Chief Sean Duggan.
Over the past decade, Chandler's crime-fighting strategy has focused on five key objectives:
Earning trust by recognizing each contact with a member of the community is an opportunity to earn their confidence, support and respect, with the understanding that police cannot be successful without the consent of the public.
Using technology to police smarter and more effectively by concentrating on active "hotspots" and violent offenders identified through sound data analysis.
Providing effective training and equipment, while adhering to the highest standards of performance.
Ensuring leadership and accountability at the police precinct and bureau levels.
Developing meaningful relations with regional and federal law enforcement partners,  allowing Chandler Police to leverage their resources, training and expertise.
Chandler Police also offer several crime prevention programs:
Neighborhood Watch – engages neighbors to look out for each other, report suspicious behavior and prevent crime.
Vacation Watch – when residents go on vacation, police can offer extra patrol to check on your property.
Business Watch – when a Chandler business is closed for an extended period of time, police can offer extra patrols and checks of the business.