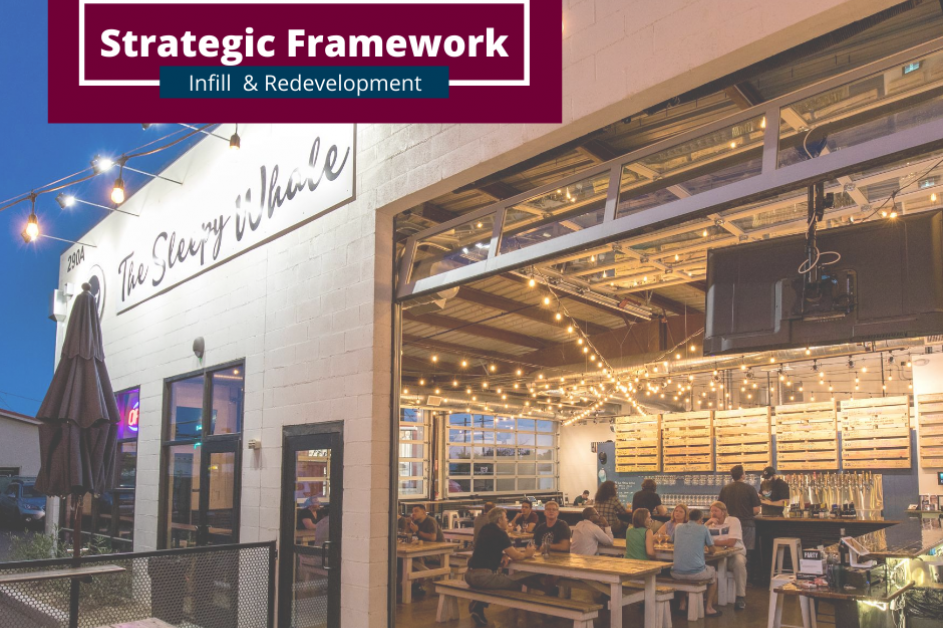 Strategic infill and redevelopment is an important focus area for Chandler as the community continues to grow. The City is approximately 88 percent built-out, leaving 12 percent of undeveloped land remaining for future development. As large plots of available land diminish, our focus has shifted to identifying opportunities to repurpose existing buildings and land use. Using creative regulatory tools, marketing efforts and incentive programs, the City is taking an innovative approach to redevelopment.
The City has targeted efforts to repurpose vacant retail spaces. A great example of this is the transformation of part of the former East Valley Mall into the Avilla Grace apartment community. This project was supported through the City's Infill Incentive Plan, with funding contributed to assist in demolishing vacant retail space. The project is located just west of the intersection of Arizona Avenue and Warner Road, in the heart of our Uptown Chandler employment corridor.
Another example of new residential development supporting an established area is D.R. Horton's Tre Vicino project, also in Uptown Chandler. This infill project is activating nearly 50 acres of vacant land just northeast of Arizona Avenue and Ray Road. The community will feature a mix of townhomes, triplexes and duplexes. Construction is underway with a number of homes already built.
Development plans also have been submitted for a new 250-unit apartment complex called Uptown Commons that will be built on an infill site at the northeast corner of Arizona Avenue and Elliot Road.  These three residential projects are bringing new activity to Uptown Chandler, which is important for the area's long-term economic vitality.
Another key redevelopment project is the Chandler Ranch Shopping Center (formerly named Andersen Fiesta Shopping Center), located at the northeast corner of Dobson Road and Chandler Boulevard. NewQuest Properties, who purchased the 117,000-square-foot shopping center last year, is reinvesting in the property and plans to introduce new tenants including a 99 Ranch Market that will occupy the former Bashas' space.
Looking to the future, we are targeting a few areas for redevelopment. One property that we believe has redevelopment potential is the Sun Village Fair shopping center at the northeast corner of Alma School and Warner Roads. Our Economic Development Division has been in communication with the owner about opportunities to reposition that property and we are optimistic that it can become another redevelopment success story.
Revitalizing distressed commercial areas into unique and experiential amenities support the continued vitality of surrounding neighborhoods and will attract more people to our vibrant and diverse community.