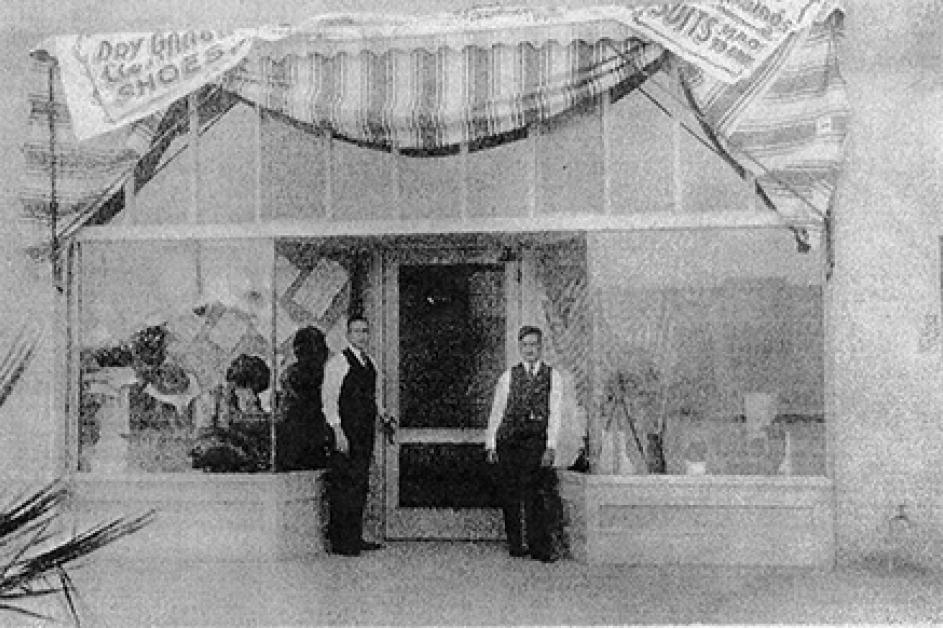 When brothers Albert and Luis Serrano opened The Serrano Brothers Popular Store in Downtown Chandler in 1919, the town—which had yet to be officially incorporated—had less than 1,000 residents.
Although Chandler is much different today, Serrano's is still alive and well, and at 100 years it holds the title as Chandler's longest-running family-owned business.  
In 1959, Albert Serrano sold the family business to his two sons, Ernie and Rudy. Ernie and his wife Eva had eight children, six of whom still work in the day-to-day family business along with several of their own children.
"The Serrano family is ingrained in Chandler's history," said Chandler Mayor Kevin Hartke. "Their entrepreneurial spirit, hard work, dedication and family pride has sustained them throughout these past 100 years. We honor their strong ties to the community and their heart of service as they celebrate this incredible milestone."
From 1919 until 1981, the Serrano family owned and operated a series of department stores around the Valley. When it came time to close the retail locations, Ernie and Eva took a chance and opened the very first Serrano's Mexican Restaurant (known as La Casa Serrano) in Downtown Chandler in 1979.
That chance has since paid off. Forty years after the opening of the first restaurant, the Serrano family now operates five locations with nearly 200 employees throughout the East Valley. 
"Dad knew opening up a restaurant was risky," said Ric Serrano, President and CEO of Serrano's Mexican Restaurants. "He always went forward with caution, but he wasn't afraid to take a risk." 
Although some may argue the restaurants' claim to fame is their to-die-for bean dip, the siblings attribute much of Serrano's success to the work ethic passed down by their parents and instilled in them at a young age working at the family clothing stores.
"We used to 'get' to work at the store when we turned 10," Ric said. "We all did it, and we were excited to go to work. We were paid $5 a day and helped out in whatever way we could."
The Serrano family grew up in a Chandler many of us never got the chance to see — a City with only one high school and more farms and fields than buildings and highways. 
According to Theresa Serrano-Keel, one of the eight siblings and Serrano's Executive Vice President and Director of Human Resources, Chandler in the late 60s was a very different world. 
"There used to be times when we'd go to school and we'd have to wait for sheep in the middle of the road and we'd be late to school because the Dobsons would be moving them from one plot of land to another," Theresa said. "We've really seen Chandler boom."
Through the years of department stores, restaurants, challenges and victories, the family members have always relied heavily on their faith to make decisions and guide their day-to-day operations. 
In October of 2012, the family decided to close all of its restaurants on Sundays, one of their biggest sales days, so employees could take a break to be with their families. 
"It was a tough decision, but it is who we are," Theresa said. "It's part of our values." 
Into the future, the Serranos anticipate family remaining at the core of their business. Today, if you stop by one of the restaurants on any given afternoon, you just may see one of the Serrano siblings or their children pitching in a hand.
"We're very hands on," said Ernie Serrano, Vice President of Restaurant Operations and a Serrano sibling. "I can bus tables as well as the rest of them. Customers seem to like it when they know one of the family members is around taking care of them." 
The Centennial Celebration
This September, the family is formally celebrating its 100 years in business. On Thursday, Sept. 19, it will host an event commemorating the family's history, complete with a taco-eating contest at 7 p.m. and lots of bean dip. 
"Our family has seen our fair share of changes and challenges over the years, but we have always been able to adapt," Ric said. "We look forward to celebrating this big milestone with our loyal customers and we invite new customers to come give us a chance."
The Centennial Fiesta at the Serrano's Mexican Restaurant location in Downtown Chandler runs from 5-9 p.m. on Sept. 19. Attendees will be invited to purchase $1.00 taco entrees, complete with rice and beans. 
The taco-eating contest will feature local city officials, including Chandler Mayor Kevin Harke, as well as representatives from police and fire departments from each of the four East Valley cities/towns that Serrano's does business in.
The winner will have $1,000 donated in their honor to the 100 Club of Arizona benefiting families of fallen police officers and firefighters. The family-friendly event will also include face painting, raffle prizes and kids' activities from 5-8 p.m.
If you can't make the event but want to catch it live, tune in to the City of Chandler's Facebook Live at 7:10 p.m. on Sept. 19 to watch Mayor Kevin Harke take on other cities in the taco-eating contest.
More Serrano's News
As part of the celebration, all five Serrano's locations will be accepting donations of new teddy bears and/or children's books (min. $10 value) throughout the month of September to benefit the W. Steven Martin 911 Toy Drive, a charity meant to connect children and law enforcement throughout the community. 
Anybody who makes a donation this month will receive a voucher for a scoop of free fried ice cream at any Serrano's location. 
If you stop by on a Thursday night, you may choose to participate in a family-focused #DeviceFreeDinner night, hosted from 5-9 p.m. every Thursday with half-priced kids' meals. 
Families dining in during these dinners are encouraged to put their phones and devices in a basket on the table and engage in a set of conversation starters to prompt meaningful conversations with friends and family members. 
For more information about the 100th Anniversary of Serrano's and more upcoming events, visit serranosaz.com.