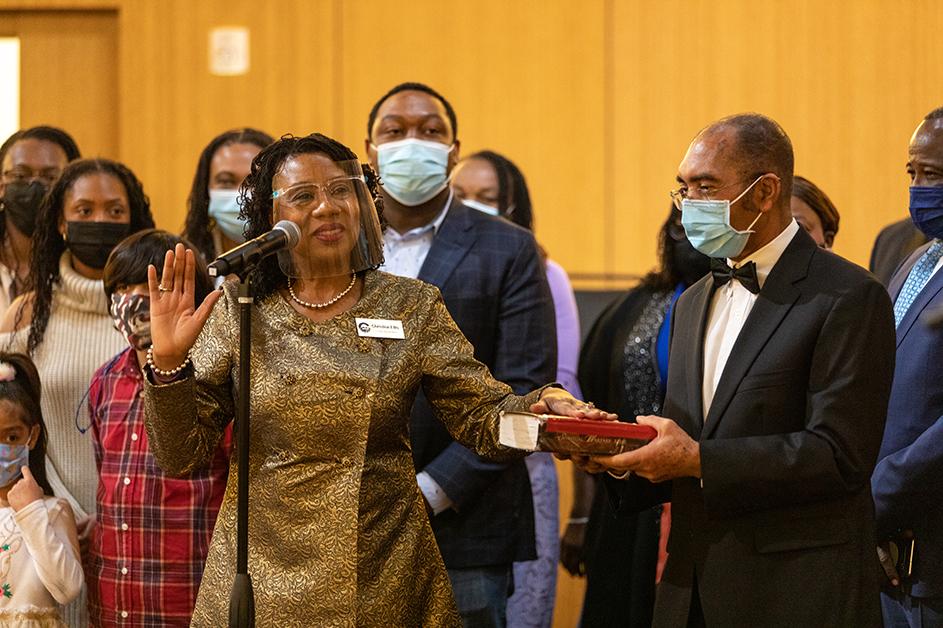 Christine Ellis, who was sworn into the Chandler City Council in January, is the first Black woman ever to serve in the office. Ellis said joining the Council is "a dream come true." Over the course of her term, Councilmember Ellis said she hopes to bring "diverse voices to the table" and to "uplift, inspire and empower" all people to get involved in City government.
In celebration of Black History Month, we sat down with Councilmember Ellis to reflect on her historic position on the City Council, her personal culture and traditions, and what honoring Black History means to her.
 
Q&A with Councilmember Christine Ellis

1. What does being the first Black woman elected to serve on Chandler City Council mean to you and your constituents?
Being the first Black woman on the City Council shows me just how much Chandler is growing and changing as a City. We are making great strides in our progress in developing our City into a place where all feel represented and welcomed.
Personally, for me, it's amazing. This is a dream come true! I am reminded of the Martin Luther King Jr. "I Have a Dream" speech. I feel like I am really living that dream. The spirit of that speech continues to live on as we make history right here in Chandler. My constituents are elated as well. They are happier for me than I am for myself! I'm only kidding, but the support has been overwhelming, and I am so excited to be a part of it.
The support from the community has come from across the spectrum in regards to age, color, economic status, etc. People of all backgrounds have been forthcoming to share how they feel about this moment in our City. People are excited about this for me, for Chandler and for the entire community.
2. Why is it important in your opinion to have diversity on Chandler City Council?
I think it is important because we are not all the same. When people can look at the Council and see a mirror rather than a window, they feel more appreciated. They feel like they have a voice and they can come to the table. Speaking up about issues that matter and sharing how you feel can be difficult, and it's possible that certain constituents or groups of people can feel more empowered to speak up when they see that representation of themselves sitting on the City Council.
My grandfather used to say, "You are going to encounter people who don't look like you, talk like you or act like you, but one thing you are all going to have in common is a soul." I still carry that with me, and that is how I view all the people I serve in Chandler.
All of that is to say that diversity is a good thing. Diversity says that we can all contribute and are all worthy of being heard and valued. I appreciate that Chandler shares those ideas with me.
3. What does Black History Month mean to you?
All my life I have been living Black History Month. I came to this country from Haiti — the first Black nation in the world to be free. As children, it was instilled in us that we can be whatever we put our minds to. Growing up when we read about our ancestors and what they had to go through — fighting Napoleon who was then the most powerful person in the world and sending him back with his tail between his legs — it was such a powerful story. I am a descendent of people who are strong, who are valuable, who know who they are and who stand on those principles. I am very proud of that history.
When I look at Black history, I look at the history of people all over the world and encompass them into the celebration. Black people did not originate here in the Americas. We are here now. This is our home, and we have passed down the ability to thrive and become strong from generation to generation. The history and understanding that we can rise up and that freedom is important to us. All of those things are a part of Black History Month.
4. How do you celebrate or acknowledge Black History Month?
I personally try to celebrate by speaking to all the younger generations. I spend a lot of time with young people in my family and in different community groups in our City. I enjoy being around them and their spirit for life. I like to take my time with youth because they are important to me.
When I am out in the community, I try to impart something to the youth every chance I get, and especially during Black History Month. During this month, I focus on asking them about who they believe they are, what they want to accomplish in life, where they see themselves going from here, and so on. I like to invest that time in them to help them think through their goals and dreams and to feel supported that they can accomplish anything.
There are a few items I would like to work on as a Councilmember on the City level. My colleagues and I have been discussing ways to acknowledge previous African American leaders in our City. I would like to see some of our former leaders get streets named after them, and I believe that is something we will accomplish.
5. Do you have a specific cultural tradition that you would like to share with the people of Chandler?
We have so many cultural traditions we do in Haiti and we have brought many of them with us to the U.S. Throughout the month of January, we celebrate our independence as a nation. We drink a specific soup made from squash that our ancestors drank after their independence. We call it soup joumou. You know someone has Haitain roots if you say soup joumou and they say "Where and what time are we all eating?"
Food is a big part of our cultural traditions, as well as the idea of community. Having people over and having people together and celebrating is part of who we are. Every opportunity we have to be together, it's a party. We bring lots of vivacity and enthusiasm to our homes. It comes from how much we love each other.
6. What do you hope to achieve or work towards for the Black community and other minority communities in Chandler?
I think one of the major things I want these groups to know is that they have a voice. I will listen and represent them, but I want them to know there are so many ways to get involved. Our communities here in Chandler have great values and have been a part of Chandler for many years. I will keep encouraging and inspiring people in the community to take their seats at the table.
The lesson I want to share is that, when you are present where the decisions are being made and ideas are being shared, people have to listen to you. But if you are not engaged and don't work to be present when those decisions are being made, you aren't using your voice when you could be. So I want to encourage people to take every opportunity to be heard.
7. What does the future look like for Chandler?
Chandler has made a bold move. It elected its first Black woman to serve on the City Council and, for the first time, it elected two African American people to serve on the Council at the same time.
From here, I want to govern in a way that inspires people to keep moving in that direction. The last thing I would want is to make people feel like they wasted their vote. I want to stress unity and the value of diversity. I want to make sure that we don't shy away from working across the aisle with people who share differences of opinion. As I am leaving office, I want to make sure that Chandler is better than it was before. We are not campaigning anymore. We are governing now. I want to govern the people of Chandler with strength, with courage and with understanding. We can only gain understanding through wisdom, which we can only gain through listening. So we have to listen.
What does the future look like right now? For Chandler, it is bright!
Connect with Councilmember Ellis
Councilmember Ellis is excited to get to know her constituents. She can be reached at 480-782-2200, and encourages you to follow her on Facebook, Twitter and Instagram.