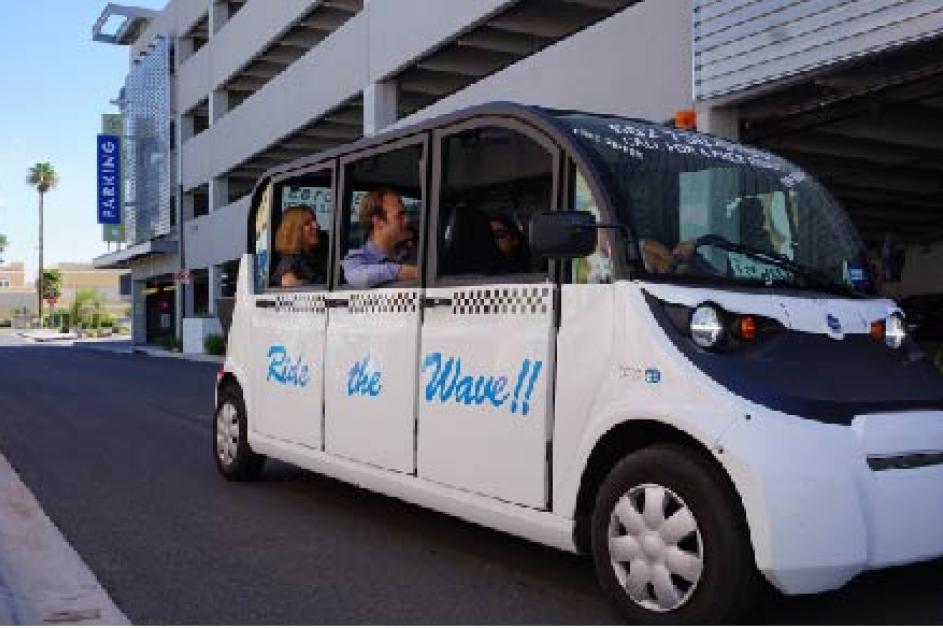 Eight months after its inception, the City's electric cab shuttle has offered residents more than 12,000 rides from parking garages to Downtown Chandler's most popular weekend destinations.
The eCab, also known as The Wave, came to Chandler as an out-of-the-box solution to parking shortages after downtown redevelopment cleared vacant dirt lots that formerly served as parking sites. 
When the City announced its plan to develop the dirt lots in a continuing effort to revitalize downtown, some residents expressed concerns the construction would take away more than 200 parking spaces in the heart of the city center. 
But according to Kim Moyers, Chandler's cultural development director, plenty of free parking was available in several parking garages downtown — residents just weren't used to using them.
"We have plenty of other parking available in nearby garages, but wanted to enhance their convenience by providing this shuttle," Moyers said. 
And then the Wave rolled in. To encourage visitors to take advantage of the garage parking, the City unveiled its free, electric solution that adds a level of entertainment to parking in the garages and keeps patrons from having to walk to destinations on weekend nights. 
The original idea for using an eCab to solve the City's parking dilemma came about at a national Smart City conference where the vehicles were on display. At the time, only two additional cities in the United States — Austin and St. Louis — were utilizing eCabs as a form of public transportation.
Moyers traveled to St. Louis to see the cabs in action and was convinced at how perfect they'd be for Downtown Chandler.  
"Since its inception, Chandler residents have embraced the Wave and have viewed it as another amenity in the Downtown," Moyers said. 
The six-seat eCab picks visitors up from any of Chandler's four Downtown parking garages and transports them to locations in and around Chandler's historic square. Patrons can also wave it down if they see it riding by. 
"The concept itself is amazing," said rider Lisa Tomas, who caught The Wave from her friend's apartment complex to The Brickyard downtown. "You want to live in the neighborhoods where you're hanging out but you don't want to walk when it's this hot. It's great to have a quick free ride."