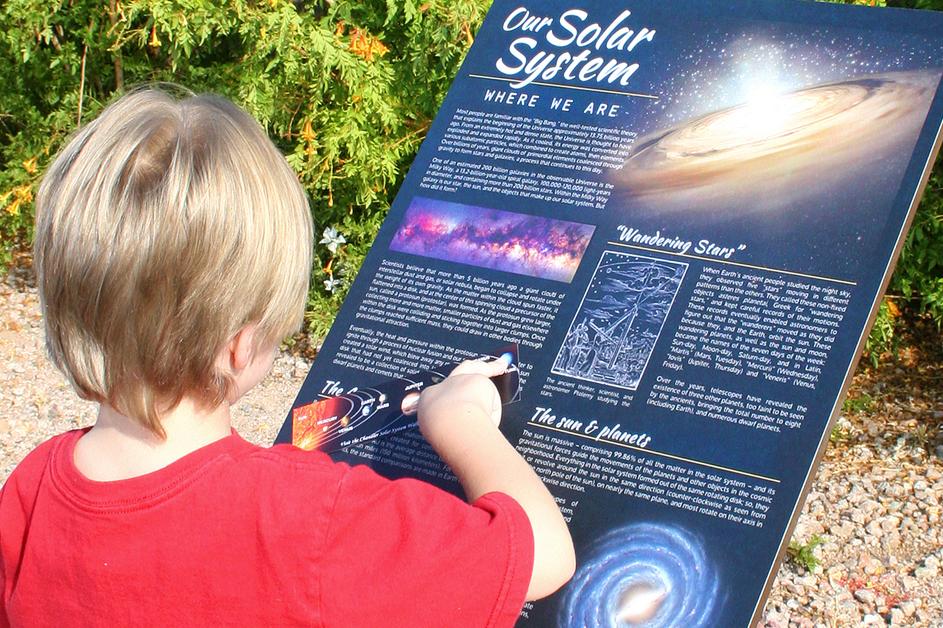 Chandler's Environmental Education Center (EEC) is an in-town oasis for exploration and the perfect place to learn about the wonders of nature and experience the great outdoors. It's location within Veterans Oasis Park and in the less populated southeast section of the City – on the northeast corner of Chandler Heights and Lindsay roads – also make it an idea spot for urban star gazing.
Sharing the science and enjoyment of astronomy has been part of the EEC's mission ever since it opened in 2008. The EEC has partnered with the East Valley Astronomy Club (EVAC) to hold star gazing events at the park every year; setting up telescopes for people of all ages to peek through and explore the heavens. Several local volunteers have also taught astronomy classes in the EEC and conducted tours of the Chandler Solar System Walk around the lake in the park.
Unfortunately, due to COVID-19 protocols, a nighttime telescope viewing event will not be available this year. In response, the staff at the EEC has expanded the event into Star Party Week, and is offering free goodie bags to the first 250 young guests who come into the EEC the week of Nov. 30 through Dec. 5.
Star Party Activity Bags
The Star Party goodie bags are filled with solar system crafts and activities for kids to take home, including materials to build an air powered rocket ship, a constellation projection light and balloons to help demonstrate how the moon orbits the Earth and how both orbit the sun.
Star Party activity bags can be picked up in the EEC lobby during regular hours of operation, which are: 8 a.m. to 7 p.m., Monday through Thursday; 8 a.m. to 5 p.m., Friday; 8 a.m. to 2 p.m., Saturday; and closed on Sundays.
"We wanted to give kids some fun and educational activities that they can do at home," says Recreation Coordinator Dexter Belling. "They may not have a telescope at home, but they can still explore the stars by using their imagination."
Solar System Walk at Veterans Oasis Park
After visiting the EEC, visitors can step outside into the park and take a leisurely walk around the lake. That is also where they will discover the Chandler Solar System Walk (SSW), a series of stone monuments and interpretive signs representing the sun, eight planets and other significant objects in our solar system. The SSW is an amenity that isn't well known to most residents of Chandler, yet it is considered a "hidden gem" by those who use the park on a regular basis, including parents who homeschool their children and teachers who bring classes to the park on field trips.
The SSW signs include information about the creation of the solar system, planets, moons, asteroids, dwarf planets, and outer solar system objects such as comets. There are also references to the ancient cultures that first studied the night sky and the mythologies they created about the stars that make up constellations.
The monuments and signs are placed along the 2,500-foot pathway that surrounds the lake at distances that are relative to the scale of the solar system. Every foot traveled on the pathway represents 1.5 million miles in space. For example, while 93 million miles separates the earth from the sun, the actual distance within the park is 62 feet.
"The Solar System Walk is both fun and educational, for all ages, with a mix of science, mythology and history that make the signs interesting no matter what age you are," says Belling. "You can use your imagination to gain some perspective on how far all the other planets are from Earth and each other, all while you enjoy a nice walk around the lake. It is good for the mind and body. Plus, it's free!" 
Dedicated in 2012, the Chandler Solar System Walk was designed by Chandler residents and funded entirely through a public-private partnership between the City's Recreation and Parks divisions, the East Valley Astronomy Club (EVAC), and the family of Howard Israel. An avid amateur astronomer and past vice president of EVAC, Mr. Israel was the first astronomy instructor at the EEC when it opened 12 years ago. He was the inspiration behind the SSW project and was able to see it completed before he died in 2012.
Anyone can enjoy the SSW at any time during normal park hours. Before taking the walk, Park visitors are invited to ask the EEC staff for a self-guided tour brochure, which includes a map and some details about the project.
Guided Tours of the Solar System Walk
For those who want to enjoy the SSW signs, but also want to learn more about astronomy, guided tours are often available on a monthly basis, with details and fees in the City's Break Time Recreation brochure and registration online at chandleraz.gov/registration.
One of the local astronomers who conduct guided tours is David Portree. His interest in astronomy and spaceflight (and science fiction) started when he was 6 years old, and coincided with seeing the film "2001: A Space Odyssey" in 1968. When Apollo 8 orbited the moon in December of that year, Portree's fate was sealed and he knew all things space related would hold his attention throughout his life.
Over the years, Portree has been a science and history freelance writer, lecturer, educator, map librarian, historian and blogger; all related to space and astronomy. He has been an employee or worked on projects for planetariums, NASA Goddard Space Flight Center in suburban Washington DC, Kennedy Space Center in Florida, US Geological Survey Astrogeology Science Center and Lowell Observatory in Flagstaff, and the Lunar Reconnaissance Orbiter Science Operations Center, which is based at ASU.
Sharing his knowledge of astronomy and space exploration is a calling for Portree, who says, "I feel moved to tell people about how cool space and astronomy can be. I can talk and write about propulsion, life on other worlds, chemistry at really low temperatures, objects so dense and massive that they wrap space around themselves and disappear, the Space Race during the Cold War; you name it, it's part of the biggest unknown there is – space."
The Chandler Solar System Walk is a great education tool that Portree can use to spark curiosity and inspire people to ask more questions and seek more answers. "Chandler is very lucky to have the Solar System Walk. In fact, every community should have one," says Portree. "A scale-model of the solar systems brings astronomy and space down to Earth and helps give us a new perspective on the universe. It can be explored any time by anyone, and unlike observational astronomy with a telescope, it's totally impervious to light pollution, smog and cloudy conditions."
Star Party Week is presented by the Chandler Parks and Recreation divisions and in partnership with the East Valley Astronomy Club (EVAC). Find more information online at chandleraz.gov/eec, or by calling 480-782-2895.