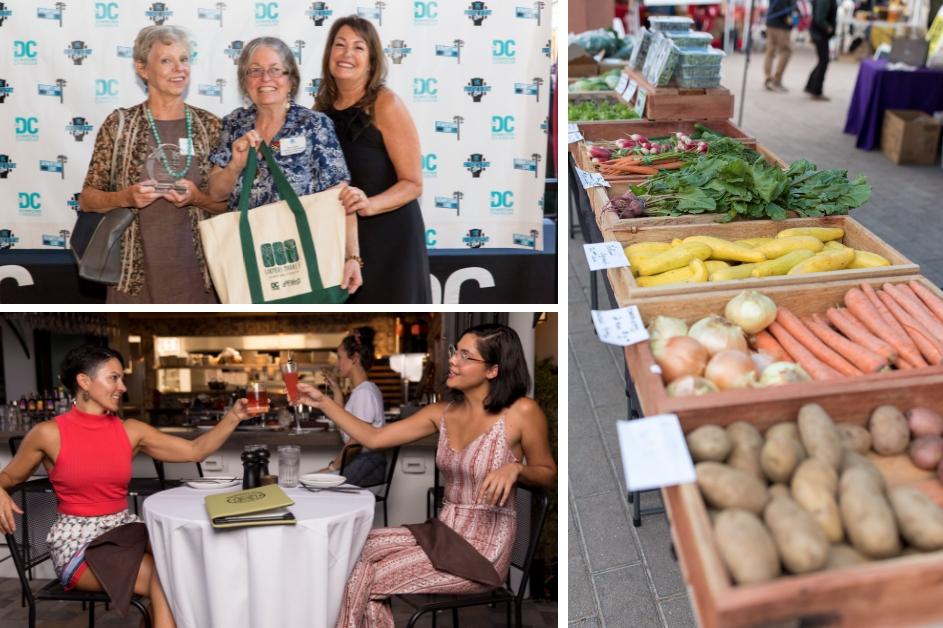 Downtown Chandler is the vibrant district at the heart of our City, home to much of the iconic entertainment, dining, shopping and landmarks residents know and love. 
Whether you are looking for a night on the town or easy family-friendly activities, Downtown Chandler has something for everyone. In order to keep it that way, the City's Downtown Redevelopment Division works hard to foster an environment that attracts new businesses, supports existing favorites and creates unique spaces that excite visitors to the district. 
But the City doesn't support Downtown Chandler all on its own. There is another organization that provides services above and beyond what the City does. That organization is the Downtown Chandler Community Partnership (DCCP).
"The Downtown Chandler Community Partnership is a 501(c) 6 not-for-profit corporation whose mission is to mobilize leadership and resources to advance the development of Downtown Chandler as a regional destination for shopping, dining, living, culture and the arts," said Mary Murphy-Bessler, Executive Director of the DCCP.
The small but mighty organization provides additional cleaning, events, marketing, and other support in and for Downtown Chandler. Maybe you have been to the Sippin' Santas Pub Crawl or Friday Night Live — both DCCP events. Perhaps you have seen individuals in bright shirts keeping Downtown Chandler clean; those are members of the DCCP's Clean Team. If you have ever eaten on one of the "On the Street" patios, you are experiencing how the City collaborates with the DCCP, as they helped the City gather feedback for the important initiative. 
"The DCCP management works for and is accountable to property and business owners by advocating to advance policies and attract additional resources that will improve the District," Murphy-Bessler said. "I serve at the will of a 10-member Board of Directors that must own property within the District. The enhanced services offered by the DCCP are primarily in the areas of management, marketing, events, safety and beatification."
John Owens, City of Chandler Downtown Redevelopment Specialist, said the DCCP is a great partner for the City in its efforts to make Downtown Chandler even more exciting. 
"They work hard to provide fun and safe events that keep people coming to Downtown Chandler and provide valuable input to the City when it is considering programs like Dine in the Park or On the Street," Owens said. "We're fortunate to have great partners at the DCCP helping to keep Downtown Chandler such a wonderful place to be."
One of the DCCP's signature events is its Farmers Market. Happening every Saturday from 9 a.m. to 1 p.m. October through June, the Downtown Chandler Farmers Market welcomes a bushel of local vendors and provides fun for the whole family. A recent addition to the DCCP's Saturday morning programming is Yoga in the Park, which takes place alongside the Farmers Market at 10 a.m. February through May. Both events take place in Dr. A.J. Chandler Park.
There's more in store for the rest of 2021, as the DCCP has several fun events and promotions planned. Among these is the popular You're Bacon Me Crazy brunch crawl on May 15.
"Our next upcoming event, You're Bacon Me Crazy Brunch Crawl, takes over Downtown Chandler on Saturday, May 15 and features 14 of our most mouthwatering brunch spots. Tickets are on sale now for $20, which includes some fun swag," Murphy-Bessler said. "In November, we'll be bringing back our Sugarland holiday display, with favorite pieces like the Commonwealth Canal of Lights, hot chocolate mug and fruit roll-up slide. "There will also be a few new items to look out for too, so get your camera ready. Look for details as we get closer to the holiday season."
As for additional fundraisers and events, Murphy-Bessler cautioned that they can't give away too much just yet, but she encouraged Downtown Chandler fans to follow the DCCP on Facebook and Instagram to stay up to date on the latest news and information.