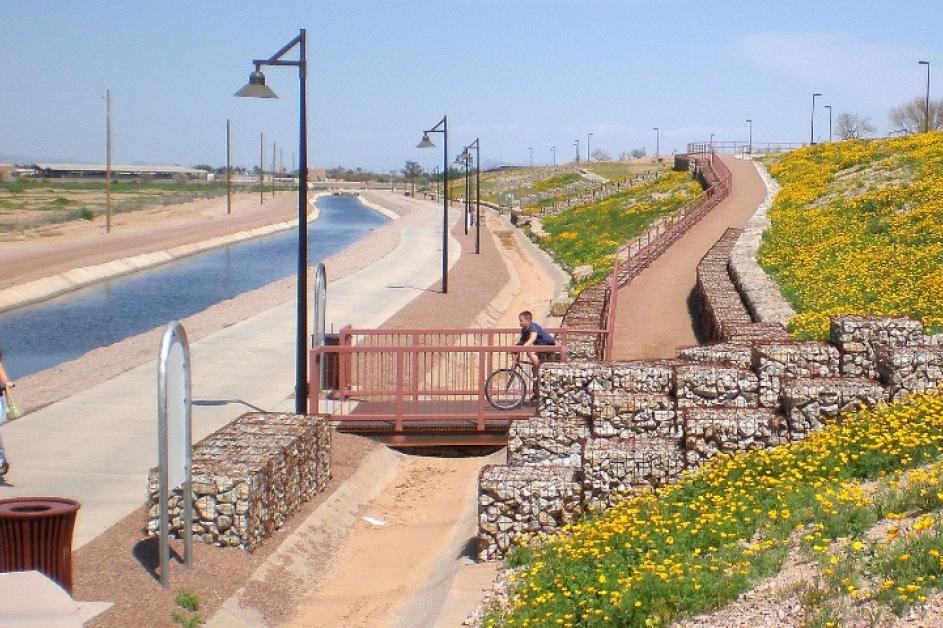 As our community works to slow the spread of COVID-19 (coronavirus), many of us are practicing social distancing and keeping a distance from other people as recommended by the Centers for Disease Control and Prevention. 
Here are some options to keep your days interesting while observing appropriate social distancing guidelines.
Walk or Bike on Chandler Trails
Enjoy the fresh air and nice weather while we still have it by walking or biking on one of Chandler's trails. 
The 6.5-mile Paseo Trail is a multi-use pathway along the Consolidated Canal in east Chandler. The eastern side is paved and perfect for joggers, walkers, stroller-pusher and bicyclists. The western side of the canal is an unpaved dirt surface, ideal for bicyclists or even horseback riders. The trail is also part of an interconnected series of trails along the Consolidated Canal through Chandler, Gilbert and Mesa. Plan your trip using the Paseo Trail map.
Experience great views and plenty of recreation options at the Paseo Vista Recreation Area located at 3850 S. McQueen Road. The park, which sits on top of a hill and allows for sweeping views of Chandler, features more than a mile of walking trails.
Stroll alongside the lake at Veterans Oasis Park for exercise or relaxation next to nature. The park, located at features walking trails, horse trails, a fishing lake and an orienteering course.
Explore Chandler Parks
Chandler has more than 60 parks with one located in almost every square mile of residential space in the City. Parks are open for walking, exercising pets, jogging, fitness and fresh air while observing social distancing. View our Guide to Chandler Parks to find a park with the amenities you're looking for. 
Grab Take-Out or Delivery
It is important as a community to support restaurants and small businesses in Chandler while also practicing social distancing. Many restaurants offer curbside, pick-up, take-out and to-go options for your favorite foods.
Grab-and-go from a local restaurant and enjoy Arizona's amazing weather with a picnic at the park or a backyard patio dinner. Bring your backyard party into the 21st century by video chatting with friends or family over your meal to check-in and stay social.
Take a Walking Tour
Explore Downtown Chandler by taking the City's Historic Self-Guided Walking Tour, compiled with information gathered by the Chandler Museum. Learn about Chandler's rich history while walking past the places they happened. You also can click through sites and read stories digitally if you prefer to stay home. 
Practice Your Photography Skills
Chandler is full of photo-worthy spots that are perfect to visit and photograph for fun. Some ideas for visually interesting photo locations include:
Downtown murals, such as the ones located next to Civic Market, Serrano's Mexican Restaurant, Original ChopShop, Overstreet and San Tan Brewery make beautiful unique-to-Chandler backgrounds for solo photography sessions. 
Chandler has dozens of one-of-a-kind public art pieces for you to visit and photograph. Not feeling like leaving the house? Take a Public Art Tour from the comfort of your own home.
Chandler parks make a classic backdrop for photographing desert nature or people. Take someone from your household to the park and practice portraits, action shots and live-subject photography while still adhering to safe social distancing.
For the latest news and updates to the City of Chandler's response to the coronavirus, visit COVID-19 Updates.