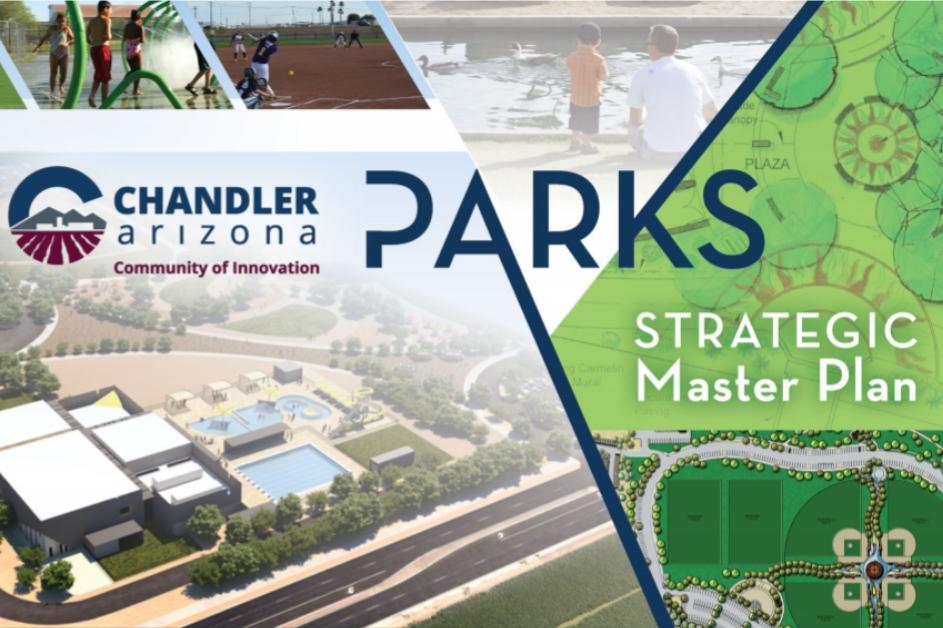 Chandler City Council met in a work session earlier this week to review and discuss the recommendations made in the Parks Strategic Master Plan. This was an opportunity for Council to ask questions and provide feedback to staff and the study consultant. With the direction given from Council at the Work Session, staff will take the plan to the Parks and Recreation Board for their endorsement before bringing it to Council for final approval this summer.
The purpose of this plan was to take an objective look at the parks in Chandler and provide guidance, strategies and operational policies that will improve the quality of life in our community.
The final recommendations are based on the results of the Parks Needs Assessment and the public feedback we received over the course of 14-months. Five areas of focus developed:
Improve Access to parks and trails and Maintain Quality

Increase Connectivity in alignment with Transportation Master Plan

Invest in Existing Resources

Create an Economic Catalyst

Ensure Operational, Environmental and Financial Sustainability
Within the focus areas, eight recommendations were labeled as the highest priority:
Prioritize lifecycle replacement of assets in parks

Provide significant renovations at aging parks

Complete a renovation of Folley Park

Continue improvements to Snedigar Sports Complex

Consider the development of an updated site-specific master plan for Desert Breeze Park

Continue to implement the master plan for Tumbleweed Park

Complete the development of planned parks (Lantana, Mesquite Grove and Homestead North Parks)

Continue to be a regional partner in Sports Tourism
Each of these recommendations have been allocated multi-year, phased funding in the 2022-2031 Capital Improvement Program (CIP) that is going before Council for approval on Thursday, June 10. Other priority recommendations include:
Consider a pilot project of converting one athletic field to synthetic turf

Develop a Bike/Trails Master Plan in alignment with Transportation Master Plan

Conduct a sports tourism feasibility study to include current park assets and the impact of new facilities being built in surrounding communities

Conduct a feasibility study and site-specific master plan for the redevelopment of South Chandler Regional Parks

Consider exploring options with private developers to meet park needs in north Chandler and other parts of the City as needed
Council also gave staff direction last night to continue implementing the current Tumbleweed Park Master Plan. The next phase of development will include the construction of four, lit softball/baseball fields. The design will begin this year with Phase one construction tentatively scheduled for the Fiscal Year 2022-2023. Our community has expressed a sincere need for these additional fields, and I am thrilled to be moving forward with the delivery of this request.
I am proud that the Parks Needs Assessment highlighted Chandler's coverage and accessibility of parks and assets as "exceptional" compared to what other communities offer. It has long been a Council goal to provide one neighborhood park within every square mile of residential development, and with this plan, we will continue to enhance and strengthen our parks system so that the recreational needs of our community are met.
Thank you to the community for your input and collaboration throughout this process. You have helped shape the future of Chandler's parks and recreational amenities and I look forward to bringing these projects to fruition.
You can view the June 7, 2021 work session presentation the Parks Strategic Master Plan to learn more.