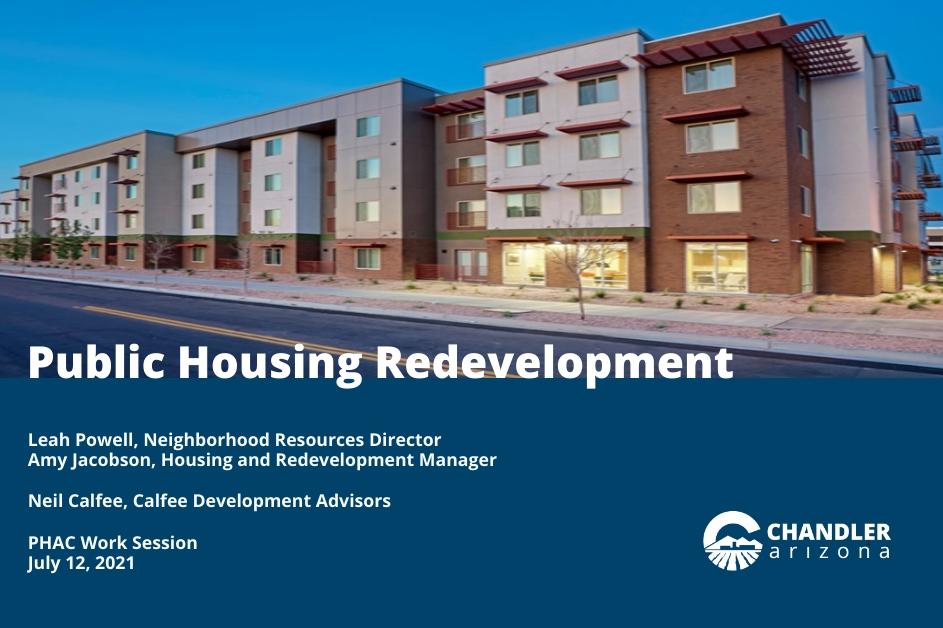 With a majority of Chandler's public housing sites turning 50 years old this year, the City has been exploring concepts of how we can reimagine our public housing program. Our mission is to maintain safe, decent and affordable housing options for low-income individuals and families in the community.
Chandler currently has 303 units in its public housing portfolio, consisting of a mix of multifamily, senior multi-family and single-family scattered sites. There are significant infrastructure challenges we are facing as the properties reach the end of their useful life, and the dollars the City receives from the U.S. Department of Housing and Urban Development (HUD) are not enough to address capital needs. To meet current and future needs, the City is repositioning public housing through HUD's Rental Assistance Demonstration (RAD). Through RAD, a unit is taken out of the Federal Public Housing inventory and converted from Public Housing (Section 9) to Section 8 assistance. This will allow us to preserve affordable housing availability, using a project-based unit or Housing Choice Voucher.
Two sites were identified for RAD development, Trails End and Site 3, and a request for a proposal for a RAD developer was released in December 2020.
During Monday's Work Session, Council gave direction to staff to move forward with selecting Gorman & Company to develop proposed projects for Trails End and Site 3 sites, pursue land assemblage for highest and best use and to submit the RAD application. The RAD application is a multi-step process, and the development is estimated to take approximately two years, depending on labor and material availability.