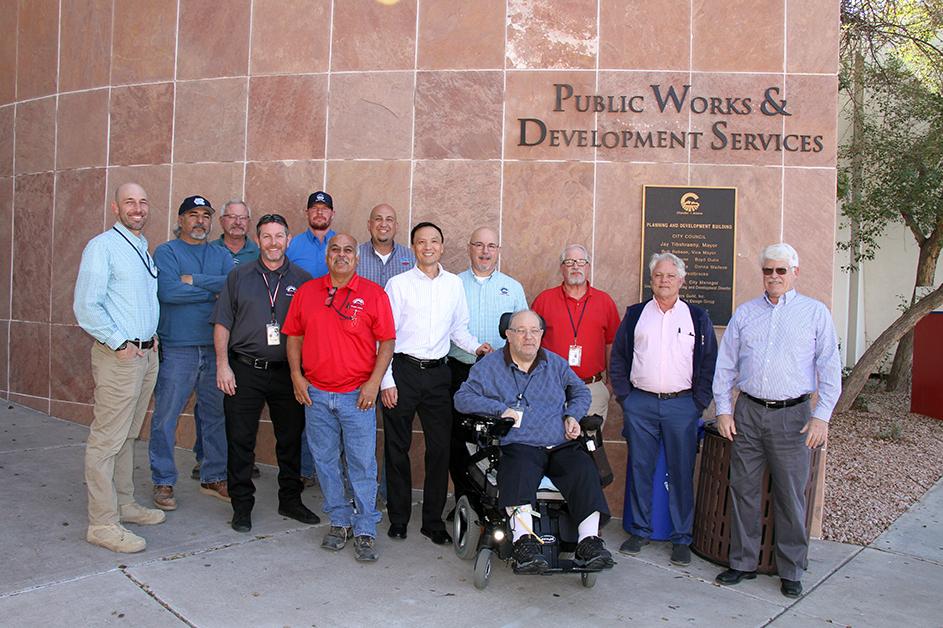 Chandler's Building Safety Division is typically an enthusiastic participant in Building Safety Month, an internationally celebrated campaign aimed at raising awareness about everything that goes into ensuring our everyday structures are safe, including building codes, inspections and dedicated personnel. 
"We planned for this year's Building Safety Month to be even bigger than last year, with more team participation, community-building events and education, but unfortunately most of that wasn't able to happen," said Bob Graffius, Chandler's Building Inspector Manager.
Like so many others at this time, the Building Safety team had to cancel in-person events for this month as a way to adapt to COVID-19. Rather than count the month as a loss, however, Chandler's team has used it to find new opportunities for growth. 
According to Graffius, the challenges of pandemic haven't been all bad — they have allowed the team to adapt and innovate in ways he hopes will make the Division stronger in the long-run. 
"Because of COVID-19, our staff has begun working remotely in the field on laptops and accepting video inspections when possible, and we've implemented a text-to-schedule platform for inspections," Graffius said. "Although it has been a challenge, I think this process has allowed some members of our team to get more comfortable adapting and using more technology. Overall, it's given us an opportunity to advance our long-term goals of becoming more tech-savvy and digital."
A Changing Division
Graffius has been with Chandler for 16 years, and this year he was promoted to head of the Division as the Building Inspections Manager after the retirement of a former long-serving leader. 
Since he has taken over the Division, the team has filled three much-needed vacancies and opened up the rest of the team to new opportunities with digital processes and education.
"We are finally fully staffed for the first time in two years," Graffius said. "Now that staff members have more available time, we will be pushing for educational development and encourage the team to take classes and get certifications."
The goal, Graffius said, is to create a more professional and better-educated department to make Chandler stand out among other Valley cities. 
"We think very highly of our inspectors," Graffius said. "Now that we have a full staff, we can encourage the people who haven't had a chance to take advantage of educational opportunities to do so for the good of our team."
Looking To the Future of Building Safety Month
This month may not have gone as planned, but the excitement on the team is already growing for next year. 
"I'm looking forward to taking everything that was going to happen this year and bring it back stronger next year, and to get our momentum going again," Graffius said. "We'll even try to add a few new things and make it the best year yet."