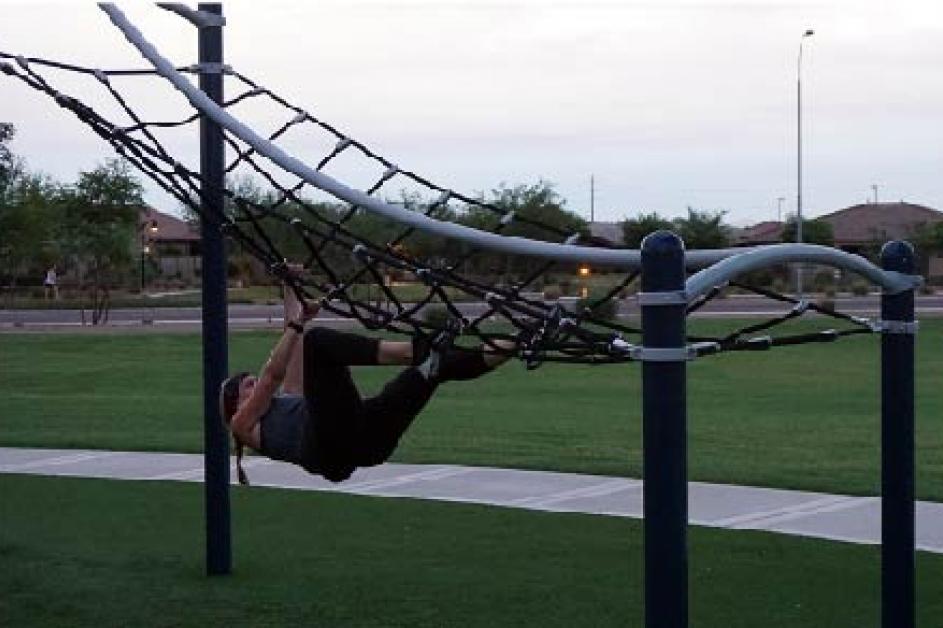 The City of Chandler has a goal to build at least one neighborhood park in every square mile of residential development — and to make each one unique.
When it came time to build Meadowbrook Park on Layton Lakes Boulevard, the City knew it needed to think outside of the box. The area has a number of playgrounds already developed, so City staff asked the surrounding community what it wanted to see in the space instead.
From there, Chandler's ninja park was born.
Meadowbrook Park, informally referred to as the "ninja park," features two obstacle courses modeled after the reality television show "American Ninja Warrior." On one side of the course is equipment designed for children and people with basic fitness ability. Across the path is an eight-challenge obstacle course for adults, complete with climbing ropes, strength bars, agility pads and more.
Mickey Ohland, Chandler's community services planning manager, said the City asked residents for feedback about what to put in the space. Residents agreed adding an obstacle course would make their neighborhood park feel like something special.
"The creation of this unique space was a direct result of listening to the residents," Ohland said.
The park officially opened in July 2018. These days, you can find residents of all ages using the equipment for both fun and fitness.
The smaller course — which features kid-friendly climbing walls, ropes and tunnels — gives families the option to play somewhere different than a standard playground.
Chandler resident LaShay Marks uses the park in the mornings to do boot-camp style obstacle training, similar to what he used to do in as a United States Marine.
"I was missing something that was giving me a purpose like I had in the Marines," Marks said. "I found the sport of obstacle racing in 2011 and have been training ever since."
Marks is the founder of Phoenix Evolution, a Chandler-based obstacle course race training group that works the courses for competition training and fitness.
"We have a lot of people who compete in obstacle races and Ninja Warriors, so this course is amazing to simulate that type of training," Marks said.
Group instructor and obstacle race enthusiast who goes by the name KK said she trains at the park to prepare for competitions, like Spartan Races or mud runs. She said she loves the park because of how accessible it is for everyone.
"It gives people the opportunity to test out obstacle course training for fun in a non-competitive environment," KK said.
Visit Meadowbrook Park
When you're not testing your skills on the course, explore Meadowbrook's 7.11 acres of green spaces, shade structures, walking paths, basketball courts, volleyball courts and more. Meadowbrook Park is located at 3377 S. Layton Lakes Blvd.