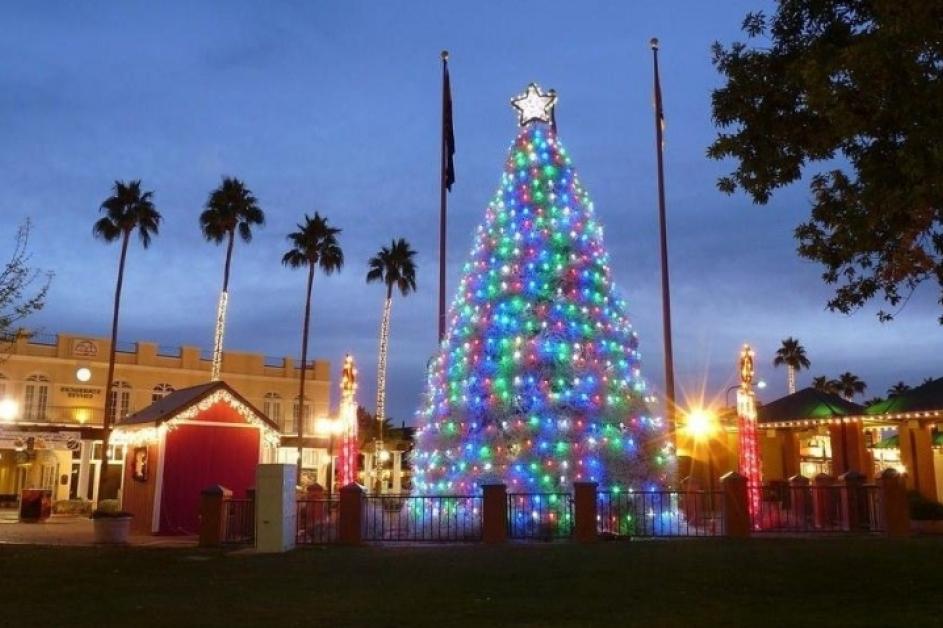 According to the legend, a fire in late 1956 or early 1957 destroyed all of the Christmas decorations in Chandler and the town replaced them with a tree made of tumbleweeds, and a tradition was born.
Although entertaining folklore, news articles at the time point to a less theatrical origin of the City's iconic holiday emblem. In 1957, Arizona Public Service replaced the light poles in Downtown Chandler with poles that were too flimsy to support the massive strings of colored lights that the town used for decoration. 
With the holidays quickly approaching, residents needed a new plan. The town appointed a committee, headed by Bill Wilson, to develop new Christmas decorations. Wilson was the manager of the J.C. Penney store in Chandler as well as the previous year's winner of the town's individual holiday decorating contest.
Wilson and his committee presented their plan to the Chandler Community Coordinating Council in September of 1957. These plans asked for improvements to the displays in Dr. A.J. Chandler Park and along Arizona Avenue. Earle Barnum, the town decorator, came up with the idea for a tumbleweed tree after seeing a tree built with local pine boughs in his hometown in Indiana.  
Several main decorations were suggested for the town square, including banners placed over the roads, decorations mounted on light poles, a "modern tumbleweed Christmas tree," an animated Santa with his reindeer, a nativity that would fill most of the west half of the park and a western-themed Christmas display.  
Most of the excitement at the time passed over the Tumbleweed Tree itself. The real buzz-maker was actually the town's light pole decorations, which featured 80 cotton boll wreaths mounted on every light pole Downtown and along Arizona Avenue.  
Newspapers showed that the wreaths were the talk of the town. The Chandler Arizonan printed weekly updates on the construction progress of the wreaths until they were put on display Dec. 2, 1957. 
The now internationally famous Tumbleweed Tree seemed more like an afterthought when it first debuted. Records indicate it took three years for the community to think of the Tumbleweed Tree as the pièce de résistance of Chandler's holiday decorations. By 1959, the Arizonan newspaper was boasting about the "great Tumbleweed Tree," and the excitement over the cotton boll wreaths had vanished to make room for the town's real showstopper.
Today, Chandler residents and visitors have developed long-standing annual traditions that pay homage to the Tumbleweed Tree. From attending the annual tree lighting ceremony and taking photos with the tree to visiting Downtown to bask in the glow of its lights, holiday traditions abound that include the beloved tree as the centerpiece.