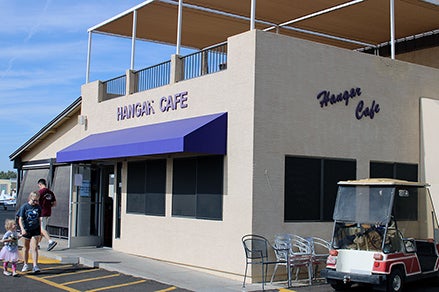 For more than two decades, the Hangar Café has been as much a part of Chandler Municipal Airport as the planes themselves. 
Located on the northwest side of the airport in an aircraft maintenance hangar, the Hangar Café is a family-run, diner-style restaurant often populated by airport tenants, families and lots of dedicated regulars. 
According to Fadi Aswad, the current owner of the Hangar Café, when the restaurant first opened in 1998, it catered to locals —  which were mostly airport pilots and nearby farmers until the population started to take off.
The restaurant has grown in popularity since its early days. Today, you'll run into customers from across the Valley who come for the old-school diner experience with a view. 
Flight enthusiasts of all ages come to watch the planes take off and land from the cafe's observation patio overlooking the runway. Guests enjoy no-frills meals while observing one of more than 200,000 flight operations taking place at Chandler Municipal Airport each year.
"People come in and they bring their families to eat and watch the planes," Aswad said. "We keep it simple. We don't make the food or place too complicated. We make it so all people and their families can come and enjoy the restaurant."
Long-time patrons will have noticed some changes around the café over the years. For instance, the owners have hung dozens of model planes from the ceiling and add new ones whenever visitors bring them in. For the most part, though, the owners have kept things mostly the same.
"It's like a family here," Aswad said. "Some people have been here from the beginning, and we really get to know people well." 
According to Aswad, the restaurant doesn't have a marketing budget — they don't need it. Over the years, word of mouth is enough to let people know about this hidden gem.  
If you aren't already a regular, stop by the Hangar Café to watch planes come and go while enjoying the café's menu classics like biscuits and gravy, gyro omelets, onion rings, Philly cheesesteaks and chicken-fried steak. 
The Hangar Café is open 7 a.m. to 2 p.m., seven days a week.